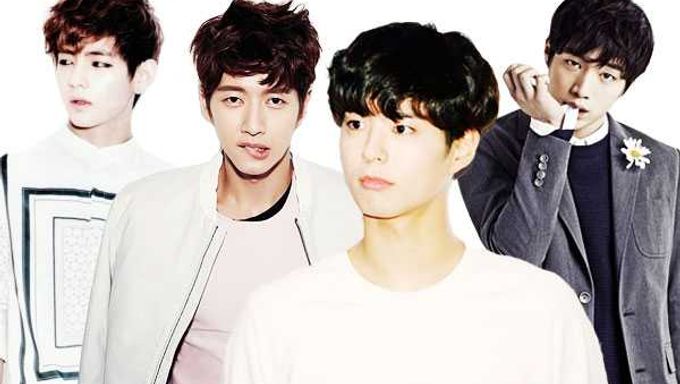 Kpopman has compiled hottest male stars these days.
It is only the beginning of the second month of the year, 2016, but there have already massive number of hot stars active on various TV programs, dramas and shows. It is so early to see them in this year, but, anyway, we all love to see them. The hot stars are on almost every show and give us full of happiness. From the hit drama, 'Cheese in The Trap' to Music Bank, the hottest stars have been compiled for you.
Must Read : Ideal Types Of Cheese In The Trap Leads
4 versions of the hottest male stars in early 2016 have been arranged, so check in which version your bias is included.
Male version of Elsa
Park HaeJin
Like Elsa, he emits endless cold charm in the tvN's hit drama, 'Cheese in the Trap'. He is cold Yoo Jeong most of time, but, for Seol, he turns on sweet boyfriend and give infinity affection to her. Who can deny this fatal man?
Warm-hearted boy
Seo KangJun
Seo KangJun also starred at 'Cheese in the Trap' as Park HaeJin. His warm attraction does not turn Seol's mind, but does our hearts. Moreover, he shows off his brilliant piano performances often in the drama.
Must Read : 3 Addictive Male Leads : Cheese In The Trap Fever
So Sweet
V - BTS
The representative sweet boy of BTS is V. V is hot these days, and appears at numbers of TV shows to spread out his endless charm. Many of his fans almost get stunned whenever he shows his sweet charm on TV.
Must Read : BTS V Kisses Fans At BTS Fan Meeting
Clumsy Attractive
Park BoGum
In the hit drama, 'Reply 1988', he showed his clumsy charm, and attracted us with his mellow smiles. His eye candy to Deoksun turned not only her heart, but ours, as well, to head him. This hot guy is also the MC of Music Bank.