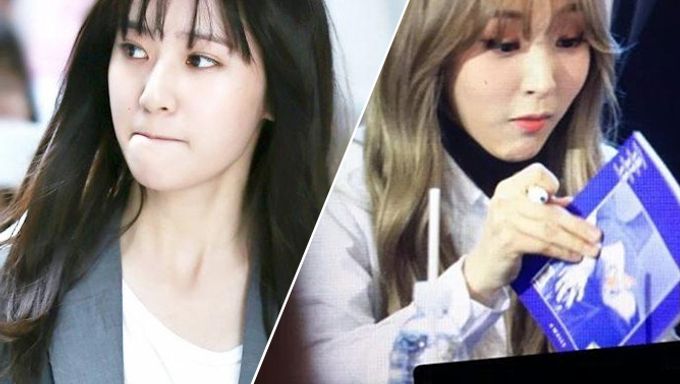 "I envy her style, she has a great fashion sense, plus she is pretty & has a proportionate body!"
Have you ever heard the expression "girl crush"? It's a phrase used when a female is a huge fan of another girl. Here're notable K-Pop female idols who fans girls admit they have a crush on. The fan girls are completely charmed with their looks, mood, powerful vocal/dance skills. It's time to celebrate hot, inspiring women who we wouldn't mind swapping lives with. From bubbly rookie girls, to top idol divas, it's truly a mixed bag of incredibly girl crushes. 
Scroll down to see which female idols have girl crushes, then let us know if we've missed anyone out, if you agree or disagree with our order. So, do you have a girl crush on any K-Pop girls?
Krystal ㅣWho's Crushing on Her: MoonByul of Mamamoo
When MC Lee GukJu asked MoonByul what she liked about Krystal all she could repeat over and over was "she's so pretty" and "she's pretty to death" before concluding with "every side of her is beautiful."
TaeYeonㅣWho's Crushing on Her: Juniel
Known for being a BIG fan of SNSD's Taeyeon, Juniel posted a photo of herself and her idol backstage at TaeYeon's very own concert. She also showed support on TaeYeon's latest  activities and tweeted, "I met my happiness today.. She even knew that I released a song. I love you Kim Taeyeon *cries* #TaengCon[cert] #I love you also Sunny unni who got me good seats."
BinnieㅣWho's Crushing on Her: JiAe of Lovelyz JiAe
During Oh My Girl Backstage... suddenly there is their manager's voice "JiAe sent this for you". Lovelyz JiAe sent a fruit to Binnie. "I like Oh My Girl a lot. We always share the same waiting room they always stay close to each other, *hand in hand*. They're really cute and pleasant."
YuJu ㅣWho's Crushing on Her: ChaeYeon of DIA
Q. Who is her the female idol that she wants to get closer with?
A. GFRIEND YuJu!
After that, YuJu  said that she often tell the members that she loves I.O.I/DIA ChaeYeon so much on SBS radio. She wants to exchange phone number with her but YuJu herself doesn't have cellphone..Need ChaeYeon and YuJu interaction as soon as possible!