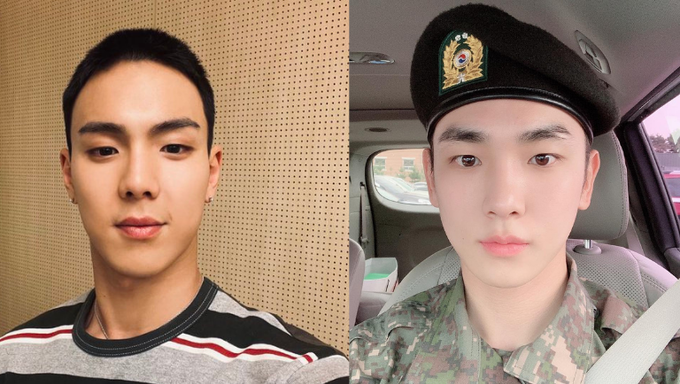 Military enlistment is an inevitable time for most of Korea's young men. For K-Pop fans that stan male idols, this means that at some point they are going to have to temporarily bid their favorite idols farewell as they enlist in their compulsory military service.
Depending on the unit, military service can take around 18 months. This can be a long time for K-Pop fans to wait, so most idols usually try to release as much content as possible beforehand, to give their fans something to look forward to.
One of the most comforting things to look back on can be the photos of an idol just before they have enlisted. Usually, they rock a military buzz cut and a smile before heading in to serve their duty. It can be quite the contrast from how they look on stage in their regular idol attire, but it is one of the most wholesome sights that have K-Pop fans rooting for them to do well and be healthy.
Here is an unranked list of some of the idols who still looked incredibly handsome in their buzz cuts upon enlisting for their military service.
MONSTA X's ShowNu has recently enlisted for his military service on Jul. 22. He will be serving as a public service worker because of his medical conditions pertaining to his dislocated shoulder and retinal eye surgery. Starship Entertainment confirmed that he will be training for 3 weeks before starting his official duty.
The MONSTA X members even went with him to the training site. They posed with him, holding out hearts to MONBEBE as MinHyuk playfully put his hands on ShowNu's freshly shaved hair.
It is a big change, but ShowNu stills looks handsome with his shaved hair.
SHINee's Key enlisted on Mar. 4, 2019 and was discharged on Oct. 7, 2020. He was a part of the military band during his service. When he enlisted, a photo was posted of him and his fellow SHINee members TaeMin and MinHo. TaeMin proudly holds onto Key's adorable buzz-cut head.
SHINee's Key got a lot of attention around the time of his enlistment. He was considered the model soldier during his time in the military and received a lot of praise for his exemplary behavior, on top of his cute look with his hair cut.
PENTAGON's Hui enlisted into the military on Feb. 18. He received four weeks of training at the Nonsan Army Recruit Training Center in the Southern Chungcheong Province of Korea before officially starting his duties. He was sent off by fellow PENTAGON members ShinWon and Yuto who also playfully held onto his shaven head.
He is yet another idol who looks just as cute in a military buzz cut. Fans have commented on how the cut accentuates his handsome face shape.
KARD's J.Seph enlisted for his military service as an active-duty soldier on Oct. 5, 2020. He expressed concern about joining the military at an age older than most but promised to come back and show a positive side to himself. The KARD members saw him off with an affectionate photo showing off his new buzz-cut.
Some fans have been saying that he is arguably more handsome with the military buzz cut, as it makes him look more mature.
These are only a few of the idols who have looked good in their military haircuts thus far.  Many idols have been able to pull off this restrictive hairstyle. Which other idols do you think looked especially good in their military buzz cuts?