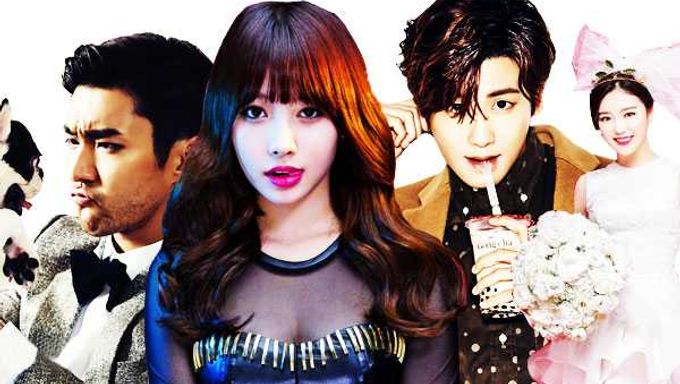 Let's see which idols were born with special talent.
K-idols are tired of working on the stuffy schedules every day. When we think about their great talents, we can guess they must have been busy for practicing in their pre-natal times. People say that genius people were born with the talent. This is not exceptional for K-idols. Many of them show off their inborn talents in numbers of special fields. Kpopmap has compiled a number of idols who were born with special feature which has affected their lives considerably.
Must Read : 2016 Idol Compilation: Sharing Similarities
Born as rich is not a talent, but can be special representation of stars. Have you ever heard about the new Korean hot expression, 'Gold Spoon'? Gold spoon indicates someone who was born to a rich family, so the one never has to worry about living in his or her whole life. Some idol stars are famous as the gold spoons. Like their enormous passion for k-pop, their rich families show off great wealth. Let's see who are listed as gold spoon idols.
Choi SiWon - Super Junior
Choi SiWon is one of well-known Gold Spoon stars in Kpop world. His father is CEO of Boryeong Medians, one of competent corporations of Korea. His father's property is valued as about 0.1 Billion U.S. dollars. It was hot issue that Choi SiWon drove a Lamborghini.
Park HyungSik - ZE:A
Park HyungSik's father is known as one of the executive members of BMW Korea. The privileged family background made him more spotlighted when his team ZE:A debuted. His real life might be similar to his character, Yoo ChangSu, of drama, High Society.
Cho HyeJung
Jo HyeJung, a daughter of senior actor, Jo JaeHyun, was in the middle of controversial when she debuted as a main character of Sang Sang Cat, drama. Her father's involvement supporting her debut was suspected. Because of her father's reputation, she has got lots of interests of public.
YuRa - Girls Day
Yura is known as one of the privileged family's daughter in Ulsan. Her father is an executive member of Hyundai Ulsan, and her family is living in the most expensive pension in Ulsan. Her bright charm must have raised from the prosperous background.
Must Read : Who Is IDOL RICH? 5 Idol Investors Compilation