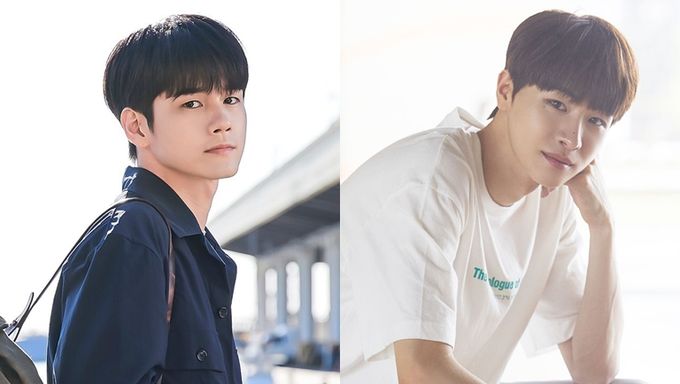 Be aware that this article contains major spoilers about the dramas mentioned. 
Have you ever been annoyed by a male lead because his actions were just not making common sense and/or because he was hurting or using the female lead? You will recognize some K-Drama characters in this description.
As the year is close to an end, there are four lead male characters that are "jerks" as they have hurt the lead female character.
No misunderstanding, we love these actors and dramas!
1. "More Than Friends" - Ong SeongWu as Lee Soo - Selfish king
The drama is still ongoing but since the beginning of the drama, the character acted by Ong SeongWu has been a selfish king. Shin YeEun as Kyung WooYeon has been in a one-sided love with him for years and confessed to him several times. He always answered that he was not interested. Ok, fine, after all, there is nothing wrong with it.
However, when Shin YeEun asked him to not meet as she would like to forget about him, he kept on meeting her and did not take her feelings seriously. Moreover, he kept on being cold and mean to her.
She decided to move on from her feelings for him and is finally dating Kim DongJun as On JunSu. However, this is when Ong SeongWu started to realize that he had feelings for her (yes... now). Knowing that she had a boyfriend, he continuously tried to seduce her and confessed to her even if she said that she did want him to do so. She told him that she was having a hard time because of him. In the end, his character is selfish for thinking only about his feelings instead of hers.
Why would you try to seduce a girl that already told you that she wants to meet another man?
2. "Born Again" - Jang KiYong as Cheon JongBeom - Kissed her without consent
"Born Again" is one of the most underrated dramas of the year. Jang KiYong's character is Cheon JongBeom an elite medical student who has feelings for Jin SeYeon as Jung SaBin, a bone archaeology instructor.
Jang KiYong is sweet and soft. He was really into the girl and wanted to become a better person for her.
However, he kissed her without consent several times: once she was sleeping and once she pulled back but he forced the kiss on her (she was lightly pushing him but it is up to the viewers' interpretation). This is a "no". How is this supposed to be romantic?
3. "Meow, The Secret Boy" - Seo JiHoon as Lee JaeSun - Kissed but started to date someone else
In "Meow, The Secret Boy", Seo JiHoon was Lee JaeSun, the second male lead. Shin YeEun as SolAh had a one-sided love for him since high school.
The two of them were getting closer and even kissed! But because of a misunderstanding, he started to date someone else without even giving an explanation to her or without listening to her explanation. His personality was also cold and he didn't know how to speak without hurting Shin YeEun's feelings.
Even if there is a misunderstanding, how could you kiss her and start dating another girl without an explanation?
4. "Twenty Twenty" - Park SangNam as Jeong HaJun - Kept telling her mom what she wanted to hide
All the viewers of "Twenty Twenty" started to curse at Park SangNam as Jeong HaJun around the second half of the drama.
In the first half, he was the sweet and kind friend of Han SungMin as Chae DaHee but when he realized that his love was just one-sided and that she was loving someone else. He showed his true colors by being violent with her and telling her mother about what she was doing behind her back.
The scene that upset the most viewers was when Han SungMin went to the club late at night in secret and he called the mother in the middle of the night to report about it. In the end, he dragged her out of the club and left her with her mother who showed up at the club.
Why would you do this to the girl you like (if this is love and not obsession)?
Read More : Top 10 Most Handsome Korean Actors According To Kpopmap Readers (October 2020)