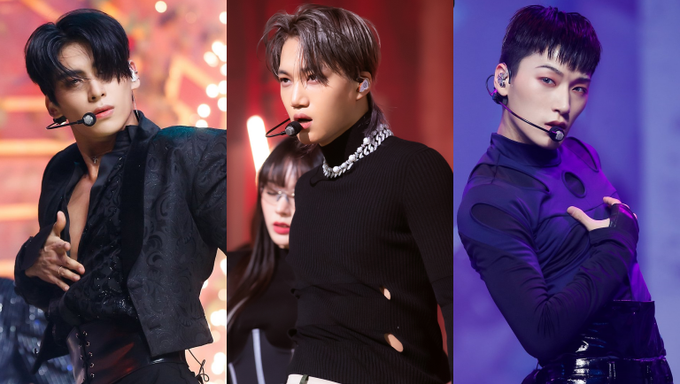 If there is one idol that other idols look up to it has to be EXO's Kai. 
If we ask many K-Pop stars who they idolize, 8 out of 10 times you will probably hear "EXO's Kai". The idol for many years has been an inspiration to not just fans across the globe but older and new generation idols who duly respect him. 
The idol has often been called the "idol of idols" as many see him as a role model in the industry. His amazing dance moves, his appealing presence both on and off the stage, and his charming and positive personality, as well as career longevity, are some of the qualities that pull other idols to him, making him an inspiration to them.
The release of his title track 'Mmmh' felt like the key that unlocked some of his fanboys, finally giving them a chance to fully express their love and respect for the idol. In this article are some of the idols who have expressively shown their admiration for Kai and who we hope he has some form of interaction with soon, especially a stage performance. 
We might be correct to say that the idol draws his inspiration from EXO's Kai. You can draw the similarities between them, especially in their performance styles. Both idols are known for their phenomenal stage presence, their distinct and captivating facial expressions, intriguing, sleek, and sensual movements that keep your eyes glued to their every move.
In an episode of "Weekly Idol", he revealed that he danced to EXO's 'Overdose' for his audition with KQ Entertainment. He also released a dance cover of Kai's title track 'Mmmh' which many viewers complimented as "exceptional" and "incredible". He also revealed during a fan call that he has covers of Kai songs he recorded on his phone to practice, proving that he is definitely an EXO-L.
[#산] 갤러리 보다가 연습한 영상이 있어서
혹시 좋아해 주실까 봐 올려요❤️
오늘도 화이팅ㅎ#ATEEZ #에이티즈 pic.twitter.com/gzmo81NtAG

— ATEEZ(에이티즈) (@ATEEZofficial) March 26, 2021
It would be a dream come through for many K-Pop fans if we somehow get to see them interact with each other. And we know for sure that we would have a "Beyonce World Stop Effect" if we get a stage performance collaboration with both of them. It will be amazing, thrilling, and all-around entertaining.
He is a fan and he is not afraid to show his love for EXO and Kai. The SF9 member has always mentioned EXO as one of the idol groups he likes, often doing dance covers to their songs during online events and mentioning to his fans how much they inspire him, especially Kai. He has released impressive dance covers of the group's songs in the past, with the 'Obsession' dance cover being one of our favorites. You can check out that post here.
 

 

View this post on Instagram

 
His constant praise for the idol has gotten fans wishing that Kai would notice him, to the extent that FANTASY (SF9's fan base name) has sent him various EXO gifts over the years, knowing well how much he would appreciate them. The more recent gift exchange was a Kai signed copy of the EXO's comeback album "Don't Fight The Feeling".
During an SF9 Stage Special Performance at "KCON NY" 2019, the idol was the perfect embodiment of Kai, nailing everything from looking alluring in his red suit to incredible dance moves, sending waves of excitement and cheers across fans.
 

 

View this post on Instagram

 
An exchange with Kai might be a dream come through for not just the idol but also Fantasy who have been fervently calling for this to happen. A scene where both idols dance to the killer point of 'Tear Drop' will be more than enough, right FANTASY?
HyunJin is another idol that we want to have an interaction with Kai. Both possess similar traits especially when it comes to their performances, they are both present, focused, and determined to give their very best with each performance, and we might also be right by saying that idol draws his inspiration from Kai.
He also released a dance cover of Kai's hit title track 'Mmmh' which also went viral on the internet with netizens complimenting not just how much of a good dancer he was but how he was able to perfectly embody Kai, exuding a similar aura and charm like the idol.
 

 

View this post on Instagram

 
The idols have previously met during  Kai's promotion for 'Mmmh' at SBS' "Music Core" where HyunJin was one of the hosts. HyunJin was clearly in awe and notably flustered while talking to KAI, a situation many netizens found adorable, however, a proper stage performance with both idols will be remarkable. 
The TXT member is another idol we would love to have some kind of public interaction with Kai, especially on stage. Both incredible dancers and performers, known for their body control and movements, a stage collaboration with them would be electrifying and wonderful.
나중에 댄스의 정석 때 춰볼까 하고 회사 옮기기 전에 하루 잠깐 연습해봤는데 그냥 올려봐요 키키
의도치 않게 겹친 의상...ㅋㅋㅋㅋㅋ#TXT_연준 #TXT_YEONJUN pic.twitter.com/mSR0PMk0UV

— TOMORROW X TOGETHER (@TXT_members) April 9, 2021
The idol has also released a dance cover of Kai's hit title track 'Mmmh' and EXO's 'The Eve', getting praises and applause from viewers, with many commenting just how much in sync he is with Kai in his dancing.