On July 3rd, girl group FLASHE, held their showcase for their new single 'Babylotion'.
The girls of FLASHE are known as 'healing-dols' and had previously participated in 2014 Winter Olympics, 2015 L.A Korean Festival, 2015 London World Exhibition, 2016 China-Korea Week and other various events as K-Pop representative.
It was noted that it is their fifth year active in the K-Pop industry with various member changes since 2012. Currently, the group consists of 4 members, SuA, GoWoon, YeJi and NaRae.
They commented that for their comeback, they have been preparing really hard and hope that many would like their new song. 'Babylotion' is their title track which suits the summer season well. You can check out their music video below.
Before they ended the showcase, they also mentioned that they hope that they would be able to fill up the empty spot which SISTAR used to have.
As noted by many, SISTAR was known to be the summer queens of K-Pop as almost every year they would return with catchy summer songs such as 'Touch My Body', 'Shake It' and so on before their disbandment in 2017.
However, instead of receiving words of encouragement, netizens were unhappy and disagree with what they had said.
They commented that even though it was their fifth year in the industry, they do not know who they are. Some also said that no one can ever replace SISTAR just because they have disbanded. Another also commented that she had watched "Produce 101", "MixNine", "The Unit" and so on but still do not know who this group is. As such, they have to try even harder in order to get their name known.
Do you think FLASHE will be able to change the hearts of the netizens?
Read More : HyoLyn To Open Up About SISTAR and Her Solo Debut In Upcoming Interview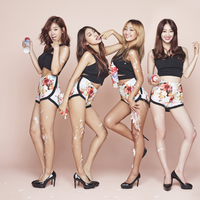 Became a fan of SISTAR
You can now view more their stories