Are you watching the fantasy drama "Mystic Pop-Up Bar"? If not you are missing this adorable and one-of-a-kind couple!
BTOB's Yook SungJae (as Han KangBae) and actress Jung DaEun (as Kang YeoRin) have an adorable love line in the drama.
Be aware of major spoilers.
The couple is unique for several reasons. They both never dated before because of their special mystic conditions. Jung DaEun is a bit tough on the outside. She started to be interested in Yook SungJae but keeping pretends she is not. On the other side, Yook SungJae is kind and cute, he loves the idea of dating her. The two are likable in their awkward and pure moves.
Here are 4 not-to-miss scenes of this cute couple.
1- First muscular meeting
The first encounter of Yook SungJae and Jung DaEun was quite ... violent. He was stealing in the office of her boss and as she was in charge of the security, she had to arrest him with impeccable martial arts skills.
In the end, she liked the idea of denouncing her boss's bad deeds and sets him free. It was a special moment for Yook SungJae as he realised his special abilities were not working on her and that was for the best.
2- Heart-fluttering dancing
Jung DaEun came to work at the same place as Yook SungJae and got to be his dance partner for a competition. As they grow closer through the practices, they started to develop feelings for each other.
Yook SungJae looks at her while practicing tells it all.
Their stage was full of chemistry.
And they did not forget to celebrate their victory.
3- Special first kiss
Their first kiss scene was also cute. Since both never dated before, it was their first kiss for each of them and their first kiss as a couple too.
She had been thinking about kissing him for days when she finally found the courage to kiss him and ran away.
He was left surprised and happy as he was touching his lips.
4- Cart moving with butterflies
Despite having kissed, Jung DaEun refused to date Yook SungJae by fear of being rejected later. On his side, he is confused as he wants to date her.
At the mart, they gave each other butterflies in an awkward and yet adorable scene. They were both fighting over who should push the cart and Yook SungJae ended up touching her hands.
Look at how happy he looked after.
Do you like the couple too? Do you have a favorite scene?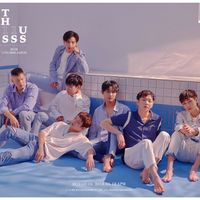 Became a fan of BTOB
You can now view more their stories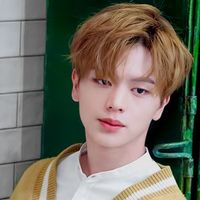 Became a fan of SungJae
You can now view more their stories