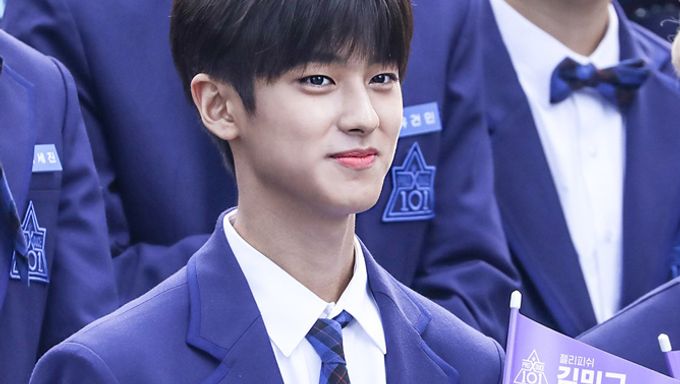 When it comes to becoming a K-Pop idol, many people look at their visuals, skills, personalities and so on. However, one of the most important aspects that one should not missed is definitely their character too!
There had been several cases when K-Pop idols were being called out for their past behaviours while they were still schooling such as bullying. With such exposure, many people noted that it is very important to have a good character.
Through the recent airing of Mnet "Produce X 101", it has gotten the attention of viewers that there are 4 trainees who seemed to have amazing visuals that complement their good character. Do take note that this does not mean that non-featured trainees have bad characters!
Let's find out who they are!
#1 Jellyfish's Kim MinKyu
Viewers would remember this trainee especially when he had first made his presence during the first few episodes. Despite being sorted to 'X' level, Kim MinKyu still thanked the mentors. When asked about why he was thanking them, he explained that it was a rare chance for him to be even evaluated by them. Since they felt that he was still lacking in many areas, he felt that he should instead be working even harder to improve and hence, thanking them for the opportunity.
This has allowed many viewers to become fond of this trainee thanks to his character. He was also seen in many occasions for this positive attitude in learning and trying his best.
Currently, he is ranked 3rd as of Mnet's 6th week rankings.
#2 OUI's Kim YoHan
During the position evaluation, Kim YoHan was in the same group as Plan A's Han SeungWoo. He had mentioned during an interview that he hoped Han SeungWoo would be able to receive the highest number of votes.
True to his words, Han SeungWoo really did receive the highest number of votes. To that, Kim YoHan was very happy and glad to see that Han SeungWoo had deserved the votes. As he was ranked the last in his group, he felt that it could only mean to work even harder.
Viewers were surprised to see such a rare scenario to happen since this show is about survival. It is not easy to see one trainee hoping for another person to do better than them.
Currently, he is ranked 5th as of Mnet's 6th week rankings.
#3 TOP Media's Lee JinHyuk 
For those who had watched episode 7 of "Produce X 101", you would know that Lee JinHyuk took over the leader position for 'Turtle Ship'. Viewers were able to see that he was struggling between writing the lyrics for rap and coming up with the choreography.
Luckily, his team was able to pull off a fun filled stage which even the mentors had praised him. He received the highest number of votes as well as the extra benefit votes, making him the trainee with the highest amount of votes in that episode.
To that, Lee JinHyuk thanked his teammates for following and listening to him well. He mentioned that it was because of them which he was able to achieve such results.
Viewers were amazed by how humble he is and impressed by his positive attitude in engaging all his teammates and supporting them.
Currently, he is ranked 11th as of Mnet's 6th week rankings.
#4 iME Korea's Lee SeJin
Lee SeJin may not have that much of screen time on "Produce X 101" but he is noted for his kind deeds before appearing on the show.
He became famous on Instagram after making adorable small plushies called 'Marimong' by himself! The money received from selling the 'Marimong' are also donated to "Animal Protection Organisation".
As Lee SeJin is known to be an animal lover, he had decided to start the 'Marimong' project through his experience of keeping a pet and concern for abandoned animals.
Viewers are impressed by his kind heart and hope that he would continue to do well "Produce X 101"!
Currently, he is ranked 20th as of Mnet's 6th week rankings.
Read More : "Produce X 101" Kim YoHan's Gif That Is Currently Causing Fangirls To Fall Even Harder