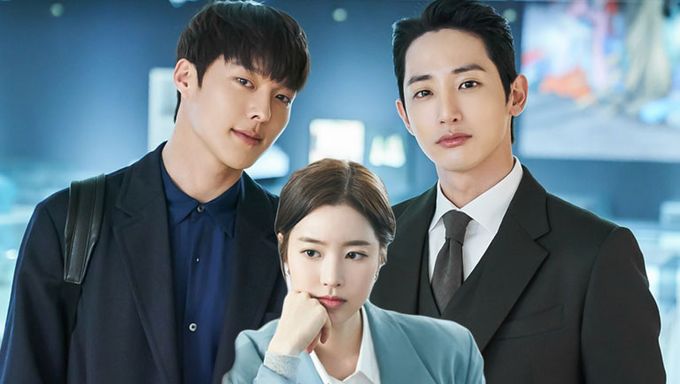 "Born Again" is an on-going drama but it seems like it is greatly underrated. The story of the drama is addicting and the characters are bringing up the tension in the storyline. It is one of the best dramas airing at the moment.
The story is intense and mysterious and so is the love triangle of the drama. It is quite complex and completely captivating.
"Born Again" tells the love of a detective, the detective's lover, and a serial killer who likes the detective's lover. The story has two timelines. The three characters first met in 1986 and met terrible misfortune. 32 years later, they are reincarnated and get to meet again in 2020. Their death was not the end of the story but a new door. In 2020, this is round 2 of their persistent links and ill-fated relationship. For more information, teaser, and posters, you can check our cast and summary here.
Jang KiYong, Lee SooHyuk, and Jin SeYeon are the lead actors. In the majority of drama with love triangles, viewers have a hint on who the lead female character will end up with. However in "Born Again" viewers are very unsure about who she will choose.
Viewers are completely torn apart by the two male leads. The lead female character is also indecisive about her feelings.
Here are 4 reasons why viewers have a hard time to choose the man to date her as they both have pro and cons. Their previous lives are also impacting viewers' choice.
Who will win the heart of Jin SeYeon: Jang KiYong or Lee SooHyuk? Vote for your favorite and let us know why you are for him.
Be aware of spoilers up to episode 6 (1 hour).
1- Kim SooHyuk (Lee SooHyuk), he cares about her more than his own life & he is her past life lover
Kim SooHyuk is a prosecutor and he first met the bone archaeology instructor Jung SaBin (Jin SeYeon) through work.
He cares about Jung SaBin. The feelings that he has for her comes from deep down inside of him. In his previous life, he was ready to do everything for Jung HaeEun (Jin SeYeon), Jung SaBin's previous life. His love traveled the time and was reincarnated in his new him. Jung SaBin also has feelings for him as she confessed that her heart is fluttering for hin.
Kim SooHyuk saved her life more than once from danger. The most notable one was when they had a car accident, he decided to save her life over his. Is it romantic?!
He also brings her back home and tells her to be careful.
To sum up, Kim SooHyuk is truly caring about her, it shows. He also seems like a trustworthy boyfriend. A lot of viewers likes his character and want him to date Jung SaBin.
2- However, Kim SooHyuk is cold and abrupt & he has a girlfriend
At first sight, Kim SooHyuk is far from being the sweetest and kindest person. He is cold and serious. However, at the same time, he is working hard to put murderers in jails. Seeing the horror of the world might have transformed him.
He is caring but most at the time angry at her, making him not the best option for a boyfriend.
The other big "no" to Kim SooHyuk and Jung SaBin is simply that he already has a girlfriend (almost a fiancee).
3- Cheon JongBeom (Jang KiYong), he is sweet and changing to a better person for her
On the other side, there is Cheon JongBeom. He is a student of Jung SaBin. Cheon JongBeom has been taking clear steps towards her. He is seducing her with his sweet talking and cute smiles. He even gave her a precious necklace.
He also saved her at several times, once when she was falling for the chair and once when she was about to cross the street at the wrong timing.
Cheon JongBeom also looked very concerned when she cut her fingers because of him.
Cheon JongBeom was also in love with Jung SaBin in his previous life and his feelings for her are still alive.
Another point why viewers like Cheon JongBeom is that he seems to want to become a better person for Jung SaBin. He is trying to change.
4- However, Cheon JongBeom is most likely a murderer & difficult to understand his way of thinking
However, there is something dark, something dangerous, something mysterious about him, ... and it seems to not be only his image and rumors. His character would have committed murder once, twice, or more. Cheon JongBeom could be a murderer making him a not-recommendable boyfriend.
He might be looking kind and sweet but ... that is not for sure.
His past is especially dark but his present is not brighter. He has serious familial issues where he even knowingly drank detergent hidden in his drink.
Jung SaBin said that she was understanding his psychological issues so there might not be a huge obstacle.
Who do you prefer Jung SaBin to date? (2020)
Who do you prefer Jung SaBin to date?
※You can vote multiple times without sign in.
What about in 1986, who stole your heart? Who should date Jung HaeEun (Jin SeYeon)?
Who do you prefer Jung HaeEun to date?
※You can vote multiple times without sign in.
Read More : Lee SooHyuk Makes Viewers Fall For Him With This Romantic Speech & Original Proposal In First Episode Of "Born Again"