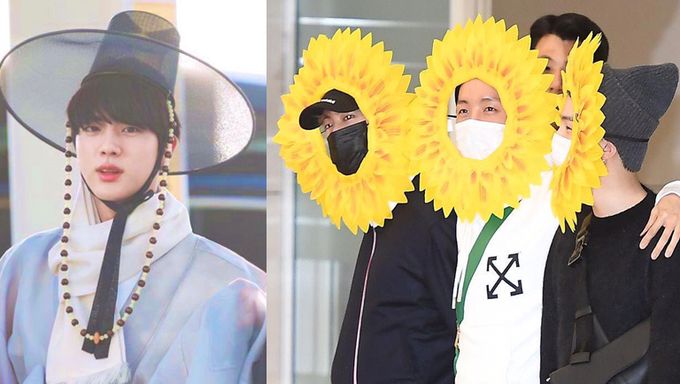 Airport fashion is one of the time where K-Pop idols get to wear their own clothes and show off their fashion style. Sometimes there are also occasions when they ended up wearing outfits that are rather 'interesting' because of certain punishments.
If you have been following BTSfor some time, you would know that they had made headlines thanks to the unique and peculiar outfits worn in the airport. Most of the time, these punishments are done because of the V-Live "Run" where they get to play games.
Let's take a look at 4 different occasions where BTS members had impressed and surprised fans with their airport fashion.
#1 Hanbok 
During one of the episodes of "Run", member Jin had to undergo a punishment and he ended up wearing Hanbok! He had stunned many with his gorgeous visuals and ARMY could not help but talked about how amazing he looked. Some are also saying that he should be cast in a historical Korean drama!
#2 Rabbit hats
One of the best punishments(?) that BTS had done was most probably the time when members V, JiMin and J-Hope put on adorable rabbit hats! They were shy when it came to posing in front of the reporters and each of them had also squeezed it such that the ears flapped.
#3 Sunflower face mask
Members Suga, J-Hope and Jin had caused laughter in the airport when they appeared with sunflower face masks!
#4 "Park JiMin" long sleeve T-shirts
At the front of the long sleeves shirts, member JiMin could be seen on it and it was hilarious to see how JiMin, J-Hope and V were wearing it in the airport.
Adding on to the element of surprise, the back of the shirt says 'I am ARMY' which had also caused many ARMY to burst in laughter after seeing the photos.
Which of the punishment outfits is the most memorable for you?
Read More : The April Fools Day Jokes BTS Have Done In The Past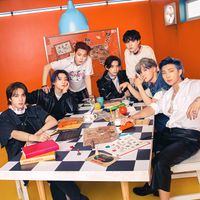 Became a fan of BTS
You can now view more their stories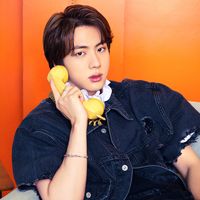 Became a fan of Jin
You can now view more their stories