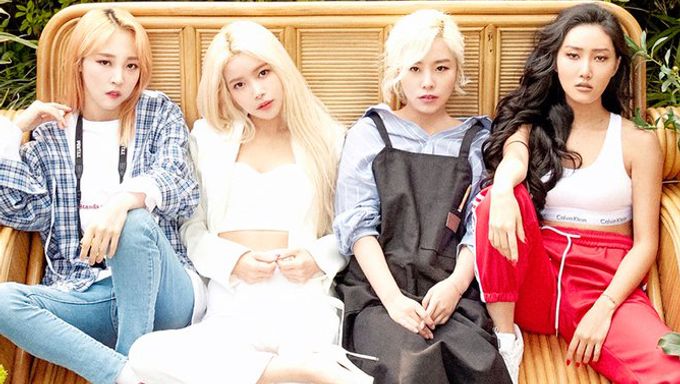 June 19th 2018 marks the 4th anniversary of girl group MAMAMOO!
They first debuted in 2014 on KBS "Music Bank" with debut track 'Mr. Ambiguous' and now, they earned the spot of one of the hottest K-Pop girl group in the industry.
The reason for that is because of the unique music genre such as R&B and outstanding vocal abilities which set them apart from other girl groups. MAMAMOO is recognized for their musical-like, dynamic as well as stable live-performing skills.
To elaborate on their recognition even more, they have fans from all walks of life, listening and supporting their music.
After 4 years of being in the industry, many are also calling the songs which they promote as 'MAMAMOO genre' instead of categorizing it to the standard genres as every song is unique on its own.
Taking a walk back to 2014, MAMAMOO's debut track 'Mr. Ambiguous' is classified as retro punk genre in the 60s and 70s. Their debut proved their talents as the public was surprised by their singing and performing abilities which most rookies do not have. Since then, they have gained the attention of many. 
In 2015, they released their second mini album with title track 'Um Oh Ah Yeh'. It was the first time after their debut which their song managed to reach the top in music chart. In addition, they were also the candidate for the number one spot on music shows. The girls also made new records by entering as the 7th on Billboard's "World Album Chart" for the very first time. To sum up the year, MAMAMOO also received "New Artist of The Year" award during Gaon Chart Music Awards.
The girls of MAMAMOO gained more fame after the release of the first full length album with title track 'You're the Best' in 2016. They topped music charts, music shows and also earned themselves the title of national's girl group. With such achievements, many are complimenting on their stable vocals and live singing skills.
In the third year of their music career, MAMAMOO then released their fourth mini album "Purple" with title track 'Yes I Am'. They came back with a cutesy and energetic concept which was well-received by many. As expected, they managed to top the music charts and also broke their own record by topping Billboard's "World Album Chart". With that, many believe that MAMAMOO was representing the different sides of K-Pop.
Advancing into 2018, MAMAMOO greeted the new year with their single 'Paint Me' and also released their sixth mini album "Yellow Flower". Their title track 'Starry Night' received many positive results and it was noted that many females began to look up to them as girl crushes.
Apart from group activities, the girls were also involved in their individual work too. Solar held her own solo concert, WheeIn released her solo album "Easy", HwaSa had a collaboration with rapper Loco and MoonByul also released her own solo album "SELFISH".
4 years seemed to go by with a blink of an eye and it is unbelievable as to what the girls have achieved. It was revealed that many rookie girl groups also chose MAMAMOO as their role model.
MAMAMOO commented that they feel blessed and happy to be with each other for the past 4 years. They also thanked fans who have been with them for a long time and wished that everyday will be a great day. Hopefully, they will stay like this for the next 40 years together with their fans.
Currently, MAMAMOO is preparing for their summer album.
Read More : MAMAMOO's HwaSa Causes Gopchang Restaurants To Sell Out