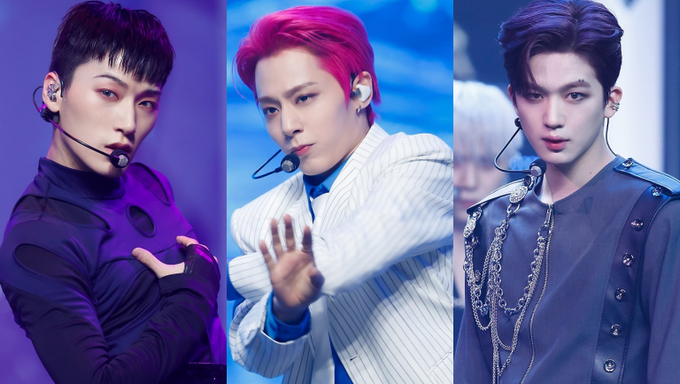 Stage presence has always been one of the key criteria of being a successful idol. It's your ability to captivate, intrigue, impress and deliver to the tee a jaw-dropping crowd cheering performance. It's the ability to get the crowd going, dominate and command the stage either through your beautiful vocals, stunning dance moves, or vibrant fast-paced rap.
4th generation idols are mostly seen as a special breed when it comes to their stage performances. There is a whole other level of intensity and wow moments that leave the crowds in awe and screaming desperately for more. With so many idols perfectly embodying this ability, it is quite difficult to pick out idols who stand out in the category. However, oftentimes, one can easily spot these idols when they're on stage, it's that something extra special, that hunger and desire to dominate and slay, that's what these idols on this list show when they are on stage.
In no particular order, here are some of our picks of 4th generation male idols who embody this criterion.
Impeccable stamina, powerful dance breaks, captivating facial expressions. San knows how to grab your attention from the second the music drops. Honestly, with the way he moves on stage, he might not have a spine.
His moves are so daring, scary but also thrilling and intriguing. His performances are always memorable. His moves should honestly be a course in K-Pop trainee Universities, probably titled "Choi San: Stage Performance 101".
The Stray Kids main dancer is quite popular for his incredible dance skills and his ability to command the stage. It is almost like the rest of the members feed off his aura and passion when they're performing.
His focused gaze is so piercing and captivating, he pulls you into the performance, making you feel the excitement and rush of being in his presence.
Fun fact: did you know that Lee Know was once a backup dancer for BTS?
All TXT members are quite exceptional performers so it was quite difficult to pick just one for this list, however, there is something extra special about YeonJun.
When he is on stage, he is like a whole different person, he is present, focused, and ready to entertain. His level of artistry is breathtaking as he can go from graceful to intense in split seconds.
His stunning visuals might be the key reason why he's the center of the group's performance but the idol doesn't just rely on his looks alone. 
His ability to command the stage and serve facial expressions that perfectly match the mood of the songs is quite remarkable.
A true definition of a performer. He owns the stage, with HwanWoong, ONEUS is definitely not lacking in the performance department. He is sheer talent.
His dance movements are sleek, elegant, sometimes furious and intense but still expressively beautiful and creative. He puts the art in performance art, his performance style is organized, rhythmic, and he exudes a certain level of confidence that is breathtaking and awe-inspiring. 
Ji ChangMin aka Q is definitely one of the best performers of the 4th Generation but weirdly still underrated.
The stunts and movements he pulls off are quite impressive. His facial expressions are always on point and all-around he is a super entertainer and a pure joy to watch on stage.
If there is a list of K-Pop idols that have that "wow it factor" then it definitely has the NCT Leader / Rapper at the top of the list (or maybe top 5). His ability to dominate a stage performance is beyond astounding.
It is definitely not a complete NCT performance if you don't see TaeYong bursting out of nowhere and delivering incredible rap flows and dance moves. The multitalented idol is an ace performer.