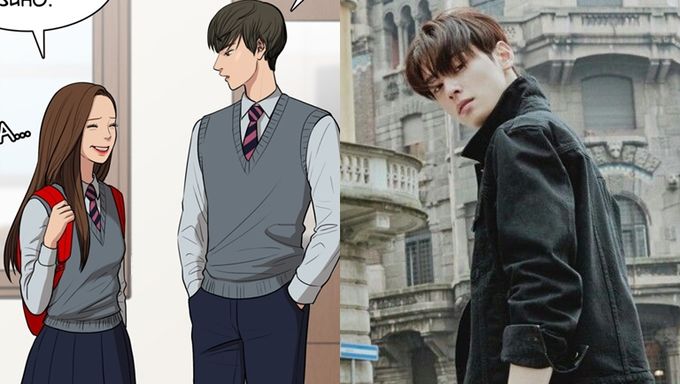 ASTRO's Cha EunWoo is positively considering the lead role of the drama "True Beauty", his casting still needs to be confirmed. The drama is an adaptation from the high school romance webtoon of the same title written by Yaongyi.
The webtoon is popular all over the world (you can read in English here). It tells the growth story of a girl that turns into a goddess thanks to makeup skills. She rather dies than reveals her bare face. It tells her first love story with the only man that saw her without makeup.
The drama will air in the second half of 2020. For more about the characters of the webtoon and drama, you can check our previous article here.
Cha EunWoo if he accepts will act as Lee SuHo a very handsome and perfect high school student. He receives the attention of everyone but is interested in no one. Even if he looks cold on the outside, he is actually kind-hearted and gets shy easily.
But the question is who is going to act as JuGyung? The lead female character is a girl that turned into a popular 'goddess' thanks to her makeup skills.
Fans of the webtoon have been debating online for months about who would be perfect for the role as there is no one officially cast yet. The writer Yaongyi previously mentioned that she would not act the lead actress (after being asked) and that the lead actress she was looking for would be in her early 20s.
We compiled a list of actresses mentioned by Kpopmap readers, Korean netizens, and our selection. Here are 5 actresses who could be the perfect match for the role and for Cha EunWoo.
Let us know in the comments and in the poll who do you think should take the role of JuGyung.
1- AOA's SeolHyun
SeolHyun was mentioned by Korean netizens for the role of JuGyung. SeolHyun and Cha EunWoo previously worked together for photoshoots and they looked amazing together.
However, her schedule might not work with "True Beauty" because she was previously reported to be considering acting in the drama "Night and Day" with NamGoong Min.
2- Chae SooBin
Chae SooBin was mentioned by Korean netizens. She is a well-loved actress with solid acting skills. There is no doubt she would look amazing in this drama.
3- BLACKPINK's JiSoo
JiSoo was mentioned largely by Kpopmap readers (in the comments here). The idol previously made a short appearance in "Arthdal Chronicles". JiSoo looks like the original webtoon character adn many are curious to see more of her acting.

4- Kim YooJung
Kim YooJung has the energy and vibes that could suit the role of JuGyung. She is also born in 1999 which is perfect for the role.
However, Kim YooJung is currently filming for the upcoming drama "Convenience Store SaetByul" (also adapted from webtoon) with Ji ChangWook. So, there might be some schedule conflict.
5- Kim HyeYoon
Kim HyeYoon from "SKY Castle" and "Extraordinary You" could be the perfect choice for the role. She proved her good acting skills and would have good chemistry with Cha EunWoo.
However, the actress will start acting in the movie "The Girl Riding a Bulldozer" from May. So, there might be some schedule conflict.
Who do you think should be acting with Cha EunWoo in "True Beauty"
Apr 24, 2020 ~ May 09, 2020
Chae SooBin
0.4% (13,790)
Kim YooJung
0.5% (16,644)
Kim HyeYoon
31.3% (1,100,888)
UPDATE: The vote is now closed, thank you for all your votes. Find out the results below.
Read More : "True Beauty" Drama From Webtoon To Air At The End Of 2020 & Casting Rumors
Read More : "True Beauty" Webtoon Artist Yaongyi Shares Her Thoughts On The Lead Actress In Upcoming Drama Adaptation