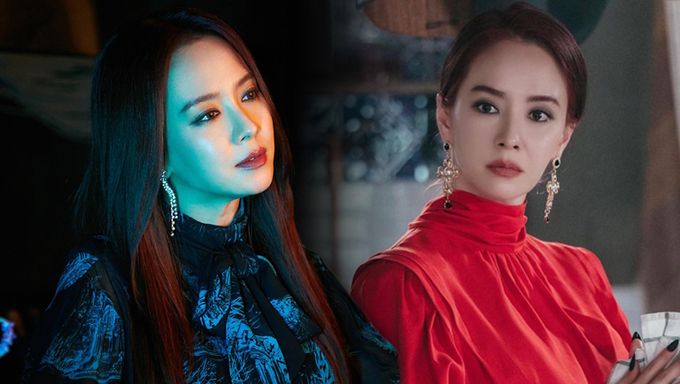 The witch theme of the new TVing original drama "The Witch's Diner" has caught the interest of many.
"The Witch's Diner" tells the cruel fantasy of the witch HeeRa (Song JiHyo), her partner Jin (Nam JiHyun), and the part-timer KilYong (Chae JongHyeop) who listen to the guests' story at The Witch's Diner selling wishes asking for a high price in return.
Song JiHyo is acting as the witch HeeRa. In the first two released episodes, she stole viewers' hearts with her unique character. HeeRa is also one of the K-Drama characters with the best fashion and makeup so far this year.
Let's find out the 5 key points that give HeeRa such a gorgeous and witchy look.
1. Smokey black eyes and glamorous lipsticks
In terms of makeup, HeeRa stands out with smokey black eyes and glamorous lipsticks. Usually, in K-Dramas, it would be either a lot of eye makeup or lip makeup. For HeeRa, it is both.
2. Color lenses
You would have noticed that Song JiHyo is using different color lenses in the drama. This brings attention to her eyes and gives her mysterious vibes.
3. Long nails with nail polish
The nails of Song JiHyo are long, sharp, and painted in black or red.
4. Fancy earrings
HeeRa is a witch with style. She does not forget to accessorize her outfits with magnific earrings.
5. Red hair
Hairstyle is also a key point of her character. The long and red hair suits her perfectly.
Song JiHyo previously mentioned in an interview for the drama that she tried not to portray a typical witch people can easily think of. She researched and talked with the production team and her stylist team. She tried to show the witch vibes through small and detailed accessories, long nails, red hair, and clothes with original prints.
We can't wait to see more of her fashion and makeup in the next episodes. Are you also in love with her character?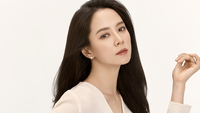 Became a fan of Song JiHyo
You can now view more their stories