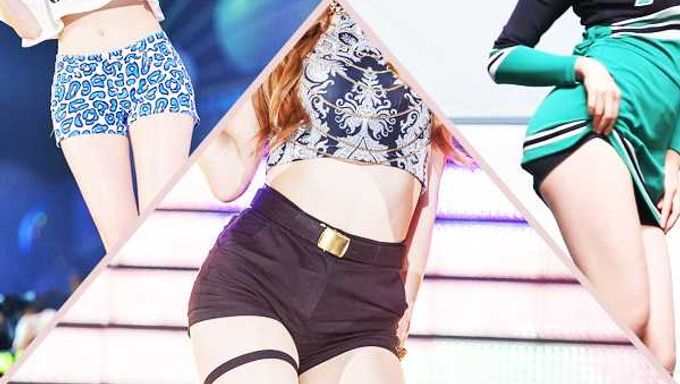 Many girl group members are so obsessed with thigh gaps?
It might surprise you that some of K-Pop's sexiest people have also some of the best thigh line. These hot stuffs prove the thigh gap originate from their fancy dance moves. For the many idol stars, thigh gaps resemble sexiness and the measure of an ideally chiselled body; all the more so because a number of girl groups have maintained the sexy concept for the album.  
We found 5 celeb ladies who strut on the stage with some of the sexiest thighs we've ever seen. Want to know who's got the hottest honey thighs in entertainment industry? Look no further, because right here are 5 female singers who have gorgeous lower body lines-- and we've got plenty of proof! The perfect shape, the perfect length and the smoothest looking skin are just a few of the attributes; and these lovely ladies possess those and more. See more of Soyou known for her hot body and four others.
Must Read : 4 Idols In Uniform Showing Off Their Sexy Charm
*Honey thighs are used to describe a girl with a good proportion from their thighs, calves, and ankles in Korea. It's like when the thighs have a little bit of fat, but it doesn't necessarily mean that they're fat, and they have a really nice healthy figure to them.
Check out these celebrities who said no to thigh gaps but keep themselves hot and nice.
5 Girl Group Members With The Most Robust Thighs
Sistar Soyou
As a former competitive girl group members, her leg muscles have been trained extensively. The balance between her torso length and leg length is perfect.
There are all different kinds of female bodies and all different kinds of beauty, this gapless starlet is no exception. After photos surfaced of a member of Year 7 Class 1 for their '3!4!' performance, the rookie girl group has been getting attention for their obscene performances. You can see that there is very little fat on her legs with good muscle definition, the perfect 'fair-skinned thighs.' Is there anyone regarded as more fierce, stunning and strong than the girl?
B.O.A
Despite being short, the K-Pop queen has golden ratio legs and flawless thighs. Thanks to her powerful and sensuous stage business, the 31-years-old woman has gained a lot more attention for her 'robust thighs.'