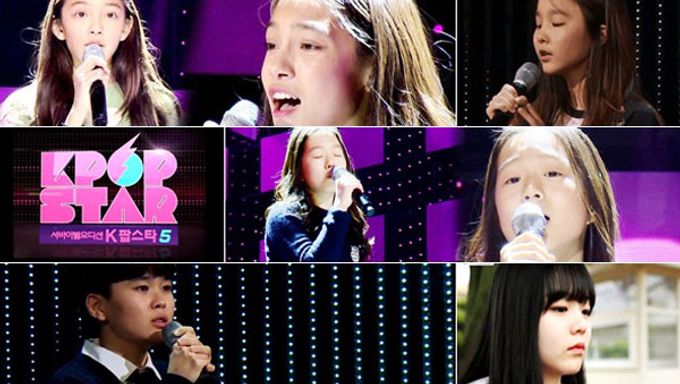 'KPop Star' becomes already season 5 with dynamic issues.

SBS's striking audition program, Kpop star, has always brought HOT issue in its every season. This season,5, is not an exception. As its past seasons, there are numbers of music geniuses appearing at KPop Star 5. For this season, especially, young candidates are notable; Brody, Lee Gyuwon, Kim Inhye, Kim Youngeun and Park Gagyeong. They have got spotlighted for their musical talents and extra ordinary background stories. Brody's return, Lee Gyuwon as an honor student, tomboy Kim Inhye, perfect prosperous diva Kim Youngeun and musician Park Sangmin's lovely daughter Park Gagyeong's musical talent.
Let's see the adorable young female talents now.
1. Brody
2 years ago, little Brody dropped out from K Pop Star 3, but never gave up her dream and appeared again on the show on Nov 29th. Her growing spurt made her strong not to cry at the cold-hearted commentary of judges now. In every episode, she has shown great improvement and potentials.
2. Kim In Hye
Perfect vocal. Her singing is too perfect so Park Jinyoung gave her fail. The attractive tomboy girl,KimInhye, has been spotlighted for her boy look and thrilling singing. All judges got impressed while she was singing except Park Jinyoung. JYP explained he could not get moved because her voice was too perfect, so she did not seem like a human.
3. Kim Young Eun
When Kim Youngeun first appeared at Kpop star 5, everyone started to fall in love with her because of not just her girl group-like look but her clear ringing voice. Her sincere voice moved all judges. JYP liked her singing so much, so he mentioned, "want to write a song for her."
4. Park Ga Gyeong
Park Gagyeong used to appear on TV because of her famous dad, musician, Park Sang Min. Thus, the fact she will challenge Kpop star audition has accumulated lots of attention before her talent was discovered. After she showed her sincere singing, all got moved. Judges mentioned she has an inborn talent for music, and evaluated her as a gemstone. They also added her talent might be inherited from her father.
5. Lee Gyu Won
The honor student can sing well. For Lee Gyuwon, there is nothing she can't challenge. This 11 years old girl has moved judges with her heart melting singing. Especially when she sang Ariana Grande's "My Everything", all judges got inspired by her sentimental voice. In addition to her amazing singing talent, she is known as a smart girl in school. She gets 100 out of 100 for all of subjects and she was a vice student president for a semester in her school.