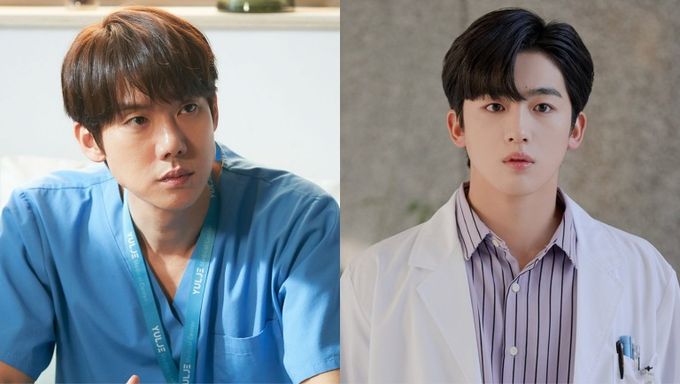 K-Dramas are known for exploring a wide range of genres and sub-genres that appeal to a larger audience as well as niche demographics, getting two birds with one stone. One such sub-genre is the medical K-Drama. Loved by casual viewers, aspiring medical professionals, currently practicing medical professionals, and more, medical K-Dramas are always a hit. After all, seeing our favorite actors saving lives and sometimes, falling in love in the process is a visual treat to say the least.
With that said, here are our top 5 K-Drama doctors that we can't help falling for!
1. Ahn JeongWon from "Hospital Playlist"
Ahn JeongWon, played by Yoo YeonSeok simply is the perfect man one could ever think of. He's skilled yet humble, strong yet gentle and perhaps one of the softest souls ever. He has his priorities straight and is strong-willed, both when it comes to his professional and personal life. One simply can't forget that he's also an amazing drummer, which is always a bonus!
2. Seo WooJin from "Dr. Romantic 2"
While the undeniable hero of the drama is actor Han SukKyu playing Teacher Kim, we just can't help pour our love out for Ahn HyoSeop playing Seo WooJin. Seo WooJin makes us laugh and cry with him and all we want to do at the end of an episode is just give him a warm hug. Fans could not have been more thankful to the "Dr. Romantic" series for giving us two whole seasons of Seo WooJin to enjoy to the fullest.
3. Ye JinWoo from "Life"
Lee DongWook is known for being able to perfectly master any and all characters. While the actor has played a doctor twice, once in "Life" and again in "Strangers From Hell", with both characters being diametrically opposed to each other, we're inclined towards rooting for and swooning over Ye JinWoo from "Life" rather than Seo MoonJo from "Strangers From Hell". The very definition of passion, dedication, and righteousness, it is impossible to not fall for Ye JinWoo.
4. Cha YoHan from "Doctor John"
Actor Ji Sung is one of the most versatile actors in the industry with a wide range of roles under his belt. One of them is the mysterious and excellent Dr. Cha YoHan from "Doctor John". His character has to be one of the most complex characters in the history of medical K-Dramas and we can't help but stare in awe whenever he's on-screen.
5. Cha Heon from "A Love So Beautiful"
Finally, this list would not be complete without the youngest and the latest addition to the hall of medical K-Drama fame, Cha Heon from "A Love So Beautiful" played by the incredibly talented singer/actor Kim YoHan. This drama marked WEi's Kim YoHan's debut as an actor and even then, he has managed to make his place in viewers' hearts with his role of a passionate doctor. As his transformation to a doctor is primarily in the second half of the drama, it has left fans clamouring for a second season.
Who would you like to add to this list? Share your thoughts with Kpopmap in the comments section down below!