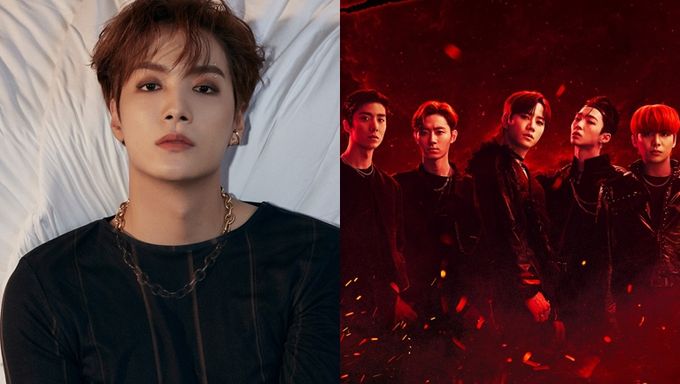 There are a lot of idols who are acting in K-Dramas but few 2021 dramas about idols or with idols in the main characters.
These dramas are often eye-opening about idols' life and struggles and also the behind stories going on inside the agency and the entire showbiz. Some fangirl/boy love to see their dream-come-true with idol romance in a drama
Here are the few K-Dramas about idols in 2021 (as announced for now).
1. "Imitation"
The drama "Imitation" tells the stories of idols in the entertainment industry and the cast is filled with idols too! If you are looking for a drama about K-Pop idols, you should not miss this one. KBS even opened social media accounts for the three groups.
Jung JiSo, ATEEZ's YunHo, SeongHwa, JongHo, and San, SF9's Chani and HwiYoung, U-KISS's Jun, T-ARA's JiYeon, ex-PRISTIN's Lim NaYoung, Park Yuri, Ahn JungHoon, MinSeo, Boys' Republic's SuWoong, g.o.d's Danny Ahn and Shim EunJin are the cast of this drama. It will air from May 7 on KBS.
2. "I'll Become Your Night"
There is a new hot drama talk about among L.O.Λ.E, BABAL, and ABNEW as NU'EST's JR, Yoon JiSung, and AB6IX's DongHyun are cast for a new drama. It is none other than "I'll Become Your Night" (SBS, second half of 2021). Jung InSun and U-KISS's Jun (Lee JunYoung) are in talks to be the leads.
The drama tells the romance between a famous idol (part of the band LUNA) who is suffering from somnambulism and a fake resident doctor who enters the group's dorm in order to secretly treat him. From the few released information, it seems like "I'll Become Your Night" will give a deeper look at idols' non-public life and struggles.
3. "Must You Go?" (web drama)
The web drama "Must You Go?" with SF9's Chani, Park JungYeon, and N.Flying's Lee SeungHyub is mostly about music. In the drama, Chani is a Joseon musician, and Park JungYeon wants to become a singer.
As for Lee SeungHyub, he is acting as a popular idol. There are a few scenes where he is seen struggling with scandals and the fact that he only needs to show his good sides to the public. There is even a dialogue with his manager about the loss he had caused to the agency.
4. "Be My Boyfriend" (web drama)
In the web drama "Be My Boyfriend", the characters are high school students. Lee SiWoo and Cherry Bullet's YuJu are also idol trainees training under an agency. There are a few scenes where they are seen practicing and talking with the agency's staff.
5. "One Fine Week 2" (web drama)
The season one of "One Fine Week" with Lovelyz's JiSoo and former MYTEEN's Shin JunSeop was popular. The season 2 (2020-2021) continues the story of a university student dating an idol and pretending to be an idol for a week.
If you are interested in a love story with an idol, you should watch this one.
6. "So I Married The Anti-Fan"
"So I Married The Anti-Fan" is a 2021 iQIYI original drama filmed back in 2018. The drama starring Choi TaeJoon, Girls' Generation's (Choi) SooYoung, and more is based on webtoon.
It is the romance between a top star who is re-writing the history of K-Pop and a journalist named as his anti-fan who get to live together.
7. "Idol: The Coup"
"Idol: The Coup" is starring Kwak SiYang, HaNi and Kim MinKyu. It will air in the second half of the year on JTBC. This drama tells a very touching and realistic story of idols who have not found success and only need one big win before they can disband.
The drama will focus on the hardships of idols and those without success. It might be a heart-aching drama.
8. "Miracle"
SF9's Chani and Kang MinAh are the lead actors of the web drama "Miracle". It is an idol romance drama about young people who overcome hardships and grow up with the power of love. Chani will act as a world-renowned artist and Kang MinAh as a producer who wanted to be an idol.
Bonus - "True Beauty"
"True Beauty" (2020-2021) is not about idols but the story has a lot of links to them. The story includes the story of SF9's Chani acting as an idol and Hwang InYeop acting as a former trainee.
Bonus - "Run On"
In "Run On" (2020-2021), Choi JaeHyun acting as the younger brother of SooYoung (one of the lead actresses) is an idol. In the drama, there are scenes where he does a live broadcast for fans, and once he was chased by fans. The production team even created a fandom name for the group.
Bonus - "Replay: The Moment" (web drama)
The school music romance web drama "Replay: The Moment" (starring (G)I-DLE's MiYeon, Kim MinChul, SF9's HwiYoung, and more) tells the story of a band in high school (no idols). If you are interested in music drama that you might want to have a look at it.
Bonus - "On Air: The Secret Contact" (live sitcom)
"On Air: The Secret Contact" is a live sitcom about the love story of a top idol and a writer. Sandara Park is acting as the writer and the role of the top idol is played by Super Junior's RyeoWook, Lee JinHyuk, VICTON's SeungSik, and Golden Child's JooChan. You can watch it on V-Live here.
Are you looking for more dramas about idols?