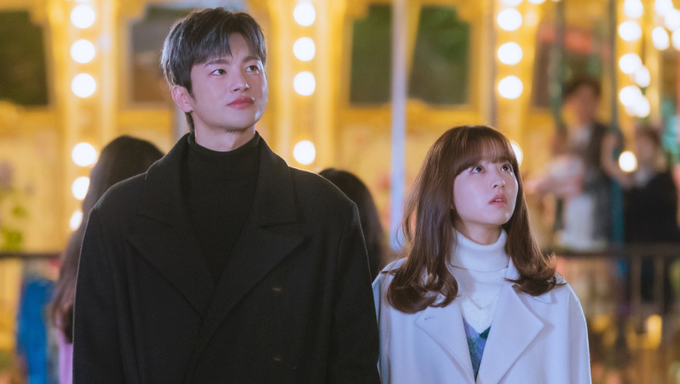 "Doom At Your Service," created a lot of buzz after announcing that the female lead was Park BoYoung and that she would be acting alongside Seo InGuk as the male lead. Fans couldn't get enough of their adorable height difference and funny dynamic on-screen.
It was even more popular because the drama features an interesting supernatural storyline and an equally star-studded supporting cast including Lee SooHyuk, Kang TaeOh, and even SF9's DaWon, to name a few.
The drama came to an end on Jun. 29, leaving a lot of fans asking themselves what to watch next. If you enjoyed watching "Doom At Your Service," here is a list of similar K-Dramas that you might enjoy next.
Disclaimer: This list is not a ranking.
1. "Goblin" (2016)
"Goblin," is also known as "Guardian: The Lonely and Great God." This drama is iconic amongst's K-Drama fans. Starring Gong Yoo as an immortal goblin named Kim Shin, Kim GoEun as 19-year-old high schooler Ji EunTak, and Lee DongWook who is the Grim Reaper and also bears the name Wang Yeo.
Kim Shin protects souls and must find his rightful bride as she is the only person who can pull out the sword stuck in his chest (invisible to a regular person's eyes). Once the sword is removed then he can move onto the afterlife, which he has been longing to do over his 939 years of life. Ji EunTak ends up summoning him by chance and the two are connected from that moment onwards.
Much like "Doom At Your Service," this K-Drama offers a storyline about a civilian girl whose fate gets intertwined with a supernatural being and has to save him. It also explores the romance between two beings from different worlds and realms.
2. "My Roommate Is A Gumiho" (2021)
"My Roommate Is A Gumiho," stars Jang KiYong who plays a nine-tailed fox (a gumiho) named Shin WooYeo, and HyeRi who plays a college student named Lee Dam.
When Lee Dam is helping her drunk friend home after a night out, there is an incident involving Shin WooYeo. It leads to Lee Dam possessing his fox bead which forces them to live together so that Shin WooYeo can keep an eye on it.
Much like in "Doom At Your Service," not only does a normal girl end up living with a supernatural being, but she also has a time limit on how long she will live. However, for Lee Dam it is not because she is terminally ill. There is a condition to her possessing the nine-tailed fox's bead. If the bead is not taken out within one year then she will die.
3. "Scripting Your Destiny" (2021)
"Scripting Your Destiny," features two leads who are very similar to Tak DongKyung and Myul Mang. The female lead is a makjang (over-the-top) drama writer named Ko CheKyung (played by Jeon SoNee), and the male lead is a god in charge of determining people's destiny. His name is Shin HoYoon and he is played by actor Ki DoHoon.
When Shin HoYoon has to complete the romantic fate of two people, he steals ideas from Ko CheKyung's drama writing notes. However, his plans do not go as he expected them to.  Similar to "Doom At Your Service," the characters have corresponding fates and end up entangled in each other's completely different worlds. They also have to deal with the effects that it all has on romance.
4. "A Korean Odyssey" (2017)
"A Korean Odyssey," is a fantasy romantic comedy K-Drama about  Lee SeungGi who plays Son OhGong, a supernatural being who was exiled to the human realm because of his corrupt nature. He tries to restore his status by looking for light in a dark world with thriving evil, but he is tied to a contract with the character Jin SeonMi (played by Oh YeonSeo) who has the ability to see spirits. The contract means that whenever she calls him, he has to come and protect her. They made the deal when she was just a little girl.
Just like in "Doom At Your Service," the male lead is related to the heavens and has a duty towards the female lead to protect her from a form of danger. In both dramas, the leads also serve to benefit from falling in love with each other.
5. "Angel's Last Mission: Love" (2019)
"Angel's Last Mission: Love," tells the story of an icy ballerina named Lee YeonSeo (played by Shin HyeSun) and a troublemaker angel seeking redemption named Dan (played by Kim MyungSoo (INFINITE's L)). He has to find love for Lee YeonSeo, but runs into a challenge.
Dan is similar to Myul Mang because they are both supernatural beings whose fate is reliant on completing a mission that involves a human girl. Lee YeonSeo and Tak DongKyung are similar in terms of their independent mindsets and the fact that they both have health issues.
If you are looking for K-Dramas with similar protagonists that are likely to develop in the same way as in "Doom At Your Service," or K-Dramas where a particular mission needs to be achieved to determine the characters' fate, then these are the dramas for you - with a supernatural twist of course! Do you have any other recommendations for fans of the show?