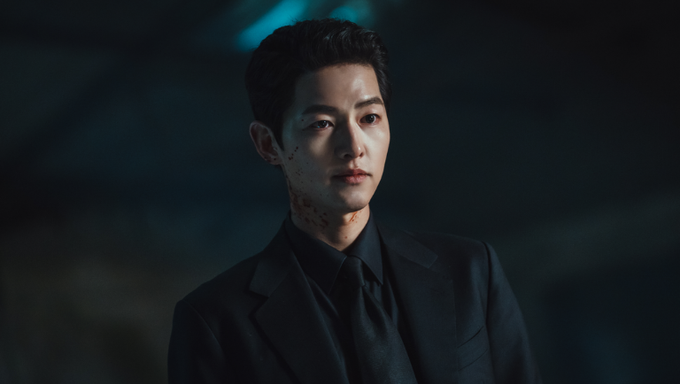 It's no doubt that "Vincenzo" has been a fan favorite for most K-Drama viewers for the past few weeks. Protagonists Vincenzo Cassano (played by Song JoongKi) and Hong ChaYoung (played by Jeon YeoBeen) have taken us through several twists and turns throughout their fight for justice. The gripping 20-episode dark comedy/thriller came to an end on May 2, leaving us satisfied but obviously wanting more. So this poses the question, "What do I watch now?"
Here are some K-Drama recommendations with similar genres, themes, and that will have you binge-watching in no time.
1. "The Fiery Priest"
"The Fiery Priest" was written by the same screenwriter as "Vincenzo" Park JaeBum. So, you can expect the same type of dry humor from this intriguing 2019 K-Drama plot. In fact, the show features an ensemble much like a mafia-style cartel. It is a story about the murder investigation of an elderly priest, led by a hot-blooded ex NIS agent turned Catholic priest named Kim HaeIl (played by Kim NamGil). We follow KimHaeIl throughout a journey of exposing corrupt officials and fighting gangs. His team consists of a detective called Koo DaeYoung (played by Kim SungKyun)  and a prosecutor called Park KyungSun (played by Lee HaNee).
If you're looking for an absurd and heartwarming legal K-Drama, this is a good place to start.
2. "Vagabond"
Cha DalGeon (played by Lee SeungGi) is an aspiring action star who is currently employed as a stuntman in the 2019 K-Drama "Vagabond." He has big dreams and equally big responsibilities as the guardian to his nephew Cha Hoon (played by Moon WooJin). Cha Hoon is a taekwondo prodigy and lands an opportunity to fly to Morocco for a taekwondo exhibition. Unfortunately, DalGeon watches the news later that day to find out that the same flight that his nephew was on has crashed. In Morocco, DalGeon grows suspicious that someone might have sabotaged the flight. Meanwhile, Go HaeRi (played by Suzy) is working as an undercover NIS agent at the Korean Embassy in Morocco. She is assigned as an aid to the families of the crash victims and teams up with DalGeon to reveal the conspiracy behind the mysterious crash.
If you enjoyed the unraveling of the case against Babel in "Vincenzo" you will definitely enjoy each detail of this one.
3. "Lawless Lawyer"
Our next K-Drama is "Lawless Lawyer" starring Lee JoonGi as an unorthodox protagonist named Bong SangPil. It is another story about avenging a death and overthrowing the corrupt justice system. Ex-gangster Bong SangPil becomes a lawyer to take revenge on the judge who ordered a hit on his mother. He sets up a law firm in the same town as Ha JaeYi, played by Seo YeJi, who is an upstanding lawyer but ends up having her license suspended due to a transgression in court. The two end up working together in their fight for justice.
If you're looking for a protagonist with a similar background to Song JoongKi, then this 2018 K-Drama is for you!
4. "Hyena"
"Hyena" is about two lawyers from opposite worlds crossing paths at a prestigious law firm, Song & Kim, and blurring the lines of justice for the most desirable outcome. Jung GeumJa is played by Kim HyeSoo and is a swindling lawyer who is willing to do whatever it takes to get what she wants. Meanwhile, Yoon HeeJae (played by Ju JiHoon) is a refined and elite lawyer that is missing the street smarts he needs to beat the game of law. Their clients are high-class and their job is equally high-risk. Watch them battle it out in the courtroom to bend the law to their will.
If you enjoyed the banter and power dynamic between Vincenzo Cassano and Hong ChaYoung, then the dynamic between Jung GeumJa and Yoon HeeJae in this 2020 K-Drama will hit the spot.
5. "Times"
This 2021 K-Drama "Times" is for those looking for a new type of plot. The crime drama enters the world of science fiction to bring you a rousing story about time travel. Lee JinWoo played by Lee SeoJin is a reporter probing for the truth. He lives in 2015. Whereas, Seo JungIn (played by rising actress Lee JooYoung) is also a passionate reporter but works in the year 2020. They connect by phone call and carry out a mission to prevent the death of JungIn's father and South Korean president Seo KiTae (played by Kim YoungChul).
Although the drama is not about lawyers, it still deals with themes of murder, political fights, and revealing the truth. 
If you loved "Vincenzo" then you will love these 5 K-Dramas and their twisted plots, make sure to add them to your watchlists! Happy bingeing!