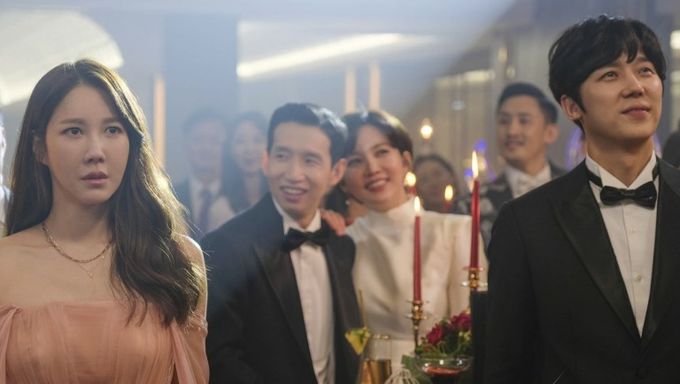 Korean dramas are the most trendy and popular means of entertainment, not only in South Korea but all over the world. K-Dramas, as they're known popularly, have reached corners of the Earth once thought unimaginable. The Hallyu wave crash-landed on the rest of the world starting way back in the 90s. The global popularity of Bae YongJoon's "Winter Sonata" kickstarted the vogue of Korean dramas. It was also around this time that Korean cinema started being recognised and appreciated on the global stage. At the same time, the entertainment industry saw the rising popularity of what is today known as the 1st generation of K-Pop, with artists such as Seo TaiJi & Boys, H.O.T, Baby V.O.X, Sechs Kies, S.E.S, Fin.K.L, Shinhwa, g.o.d and more.
With the pandemic and the compulsion to stay home to stay safe, the Korean entertainment industry saw a newfound resurgence in the love for Korean dramas worldwide. Millions of people found solace in the refreshing narratives presented in K-Dramas and perhaps what worked best in the favour of K-Dramas was the short bite-sized format. In the course of around 16 episodes, give or take 5, viewers are taken on a virtual roller-coaster ride of emotions, love, life, laughter and more. If that isn't the perfect formula for success, we don't know what is!
Naturally, just like normal people, K-Pop idols need recreation after a long day of hard work followed by necessary quarantine at home too! As it turns out, they turn to Korean dramas for comfort and entertainment too and often, just like ordinary fans, they can't stop talking about them either. In live stream shows with fans or through their SNS accounts, numerous idols have expressed their love for K-Dramas time and time again, going so far as to even discussing theories with fans about particular dramas that they might be watching. They can't help recommending them to fans either!
Do you want to know which K-Dramas are the most highly recommended by K-Pop idols? Keep reading for the top 3 K-Dramas that get recommended the most, in no particular order!
1. "SKY Castle"
This drama was one of the most highly rated K-Dramas in South Korea at the time of its airing. It also racked up unbelievable attention and popularity from overseas, with the world coming together in their universal love for the drama, its characters, the hair-raising twists and turns and more. "SKY Castle" portrays the dark side of academia in South Korea and all the inhumane pressures that are placed on students in order to get them to one of the S.K.Y Universities. Lives are placed on the line and all innocence is lost, to say the least. With the whole nation going gaga over this drama, it is only natural that a majority of K-Pop idols recommend this. BTS members RM and Suga, SHINee 's Key  and Kang Daniel  in particular are huge fans of this drama.
Much like "SKY Castle", "Penthouse: War In Life" is another K-Drama that broke all records when it came to ratings. Perhaps anticipating this breakthrough success, 3 seasons of the drama were already planned on pen and paper before the first season completed its run. Considered by popular opinion to be a "makjang" drama, meaning that it is full of exaggerated and unrealistic situations meant to bring in an overly dramatic effect, viewers loved it regardless. Our favourite K-Pop idols too, spent their time catching up on all the latest episodes and discussing the same with fans. "The Penthouse: War In Life" was highly recommended by both K-Pop idols and fellow actors in the industry. SUPER JUNIOR's HeeChul, being close friends with actress Lee JiAh, calls this drama his "daily joy". Besides him, TXT's SooBin, TWICE's Momo and NaYeon , BLACKPINK's Lisa, BIGBANG's TaeYang, INFINITE's Lee SungYeol  and SF9's DaWon are among some of the most passionate fans of the drama.
This adorably poignant and sincere romantic comedy is a must-watch for K-Drama fans all over the world and this isn't just our opinion but also some of your favourite K-Pop idols. Starring Gong HyoJin and Kang HaNeul, this drama tells the story of a strong single mother/businesswoman who learns to stand in her own right alongside her gentle lover who fights crime. It is filled with the loveliest moments of romance, maternal love and most importantly, self love which have keep you hooked from start to finish. BTS member J-Hope strongly recommends this drama as it is also his own favourite drama.
Have you watched any of these K-Dramas? Which one did you like the best? Share your thoughts with Kpopmap in the comments section down below!