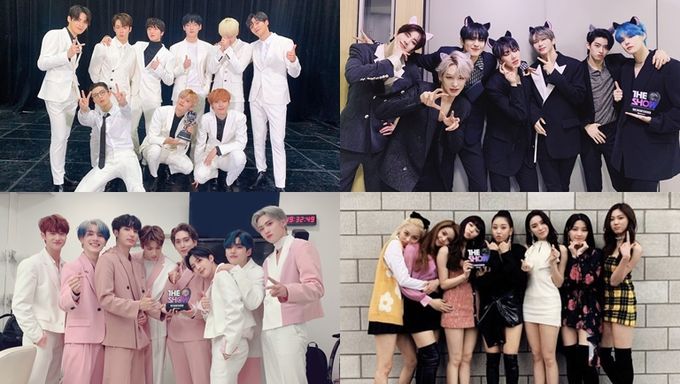 Getting the number 1 trophy may be easy for some K-Pop idol groups whereas for others, it may take them years.
After the recent news that PENTAGON had received their first ever music show win with their latest title track 'Daisy', Kpopmap had decided to find out 10 K-Pop groups that had taken the longest time to receive number one on music shows after debut.
Let's find out who they are!
#1 U-KISS - 2364 days
U-KISS debuted back in 2008 and they only received their first number one back in 2015 on "The Show" with 'Playground'! It took them almost 7 years to receive the honorable trophy and fans were extremely happy to see that they have finally gotten a number one trophy.
#2 NU'EST - 2611 days
This is their first comeback with MinHyun after the end of promotion of Wanna One and it looks like their fans had missed them for a very long time. Despite the fact that NU'EST W had received number one before, this is technically their first win as a full group.
#3 PENTAGON - 1472 days
PENTAGON has finally received their 1st win on music show with their latest title track 'Daisy'. It had taken them 4 years and 10 days before taking home their 1st ever music show trophy!
#4 CLC - 1427 days
CLC is the girl group which took the longest to receive their 1st ever music show win! Back in February 2019, the girls received their 1st win with their title track 'No'.
#5 BTOB - 1309 days
Some K-Pop lovers might thought that BTOB would have received a number one much earlier in their career but it had taken them around 3 and half years! They received the number one for the first time with their song 'Way Back Home' back in 2015.
#6 ONF - 1308 days
ONF has finally received their 1st win with their recent comeback with 'Beautiful Beautiful'! It is amazing to see their hard work being paid off and fans could not helped but find themselves getting emotional too.
#7 Boyfriend - 1265 days
Do you remember the boy group under Starship Entertainment? Well, some new K-Pop fans may not recall but it took Boyfriend about 3 and half years to receive their number one trophy! In 2014, the boys were presented with the trophy together with their title track 'Witch'.
#8 VICTON - 1224 days
VICTON is a group which had been through some ups and downs before the rose in their popularity! The boys did receive their 1st ever win with 'Nostalgic Night' back in November 2019 but they received their 1st win as a whole group with 'Howling' earlier in March this year.
#9 SF9 - 1199 days
2020 turns out to be a good year for SF9 too as they received their 1st ever music show win with their title track 'Good Guy'. It was definitely an emotional moment as they had also waited for a long time before getting the recognition which they deserve.
#10 Girl's Day - 1094 days
You would also remember Girl's Day as they are the second girl group that took the longest to receive a number one trophy since their debut. Thanks to their song 'Female President', they clinched the trophy back in 2013 after about 3 years into their debut.