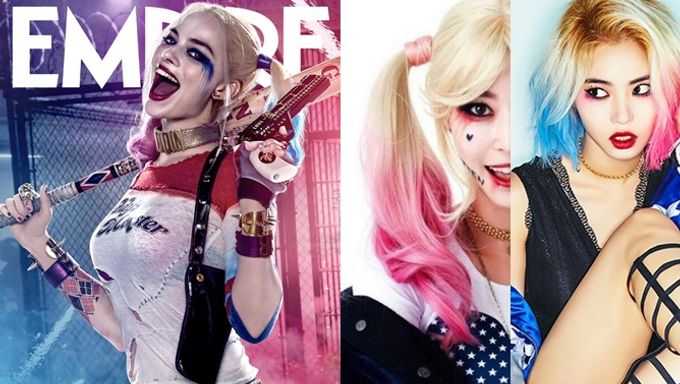 Sometimes the only way to stay sane in this K-Pop world is to go a little crazy!
Have you seen the latest movie, "Suicide Squad" yet? Well you're gonna want to, because these K-Pop idols are all about that Harley Quinn! For those who know, Warner Brothers just released their latest oxymoron super hero movie, "Suicide Squad". Main point, the bad guys are good guys... sort of! You'd think that the Joker or the Batman or... that character Will Smith plays would be the main event, but it appears there was a definite scene stealer. Our favorite K-Pop stars have been all about this character ever since its character design got released, and we are absolutely loving it!
Must Read : A Special Halloween Day of SM Artists : Who is the best costume?
Check out the 5 K-Pop idols who've channeled their inner Harley Quinn from "Suicide Squad" and nailed it!
1. NaRa - Hello Venus
2. SeulGi - Red Velvet
3. DaeHyun - B.A.P
4. HwaSa - MAMAMOO
(Not an idol, but definitely honorary mention)
Must Read : 10 Things About Idol Girls In Sexy Santa Costumes
-- Updated Additions --
6. JeongHan - SEVENTEEN
7. SungYeol - INFINITE
8. HyeJeong - AOA
Must Read : Photo )) GD's Costumes at BIGBANG Fan Meeting Tour in China