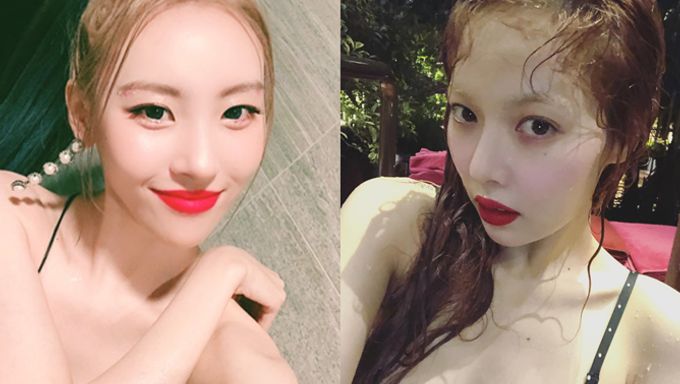 Do you know that when someone appears on the screen, he or she will look slightly larger? As such, in order to maintain the perfect figure, many K-Pop idols are actually skinnier than what we perceive them online.
It is no longer news to hear and see idols going on a diet but when they appear to be crossing the line, it raises concern from their fans. Recently, there are several idols that had caused their fans to worry about their health.
Let's find out who they are.
#1 AOA's JiMin
JiMin had caused many people to worry for her health when she posted pictures of her on Instagram. However, she had since then assured fans that there is nothing wrong with her health and in fact, doing well.
#2 ZE:A's KwangHee
KwangHee recently completed his military service and surprised many when he appeared with a drastic weight loss! Fans told him to eat lots of delicious food now that he is back into the society!
#3 Red Velvet's Wendy
There was a period of time when Wendy had also caused her fans to worry! The idol appeared to have lost a lot of weight in a short amount of time, making fans to wonder if the diet was healthy.
#4 HyunA
HyunA also has fans worry about her health! Standing by 164 cm, it was revealed that she weighs about 43 kg. Fans hope that she will put on more weight to ensure a healthy lifestyle.
#5 SunMi
SunMi all along has a slim figure but since 2018, many fans are also concern about her health. However, she had told her fans that because of her body type, it is hard for her to gain weight and there is nothing wrong with her health!
Read More : F(X)'s Luna Loses 8.5kg For Comeback, Shares Healthy Weight Loss Tip