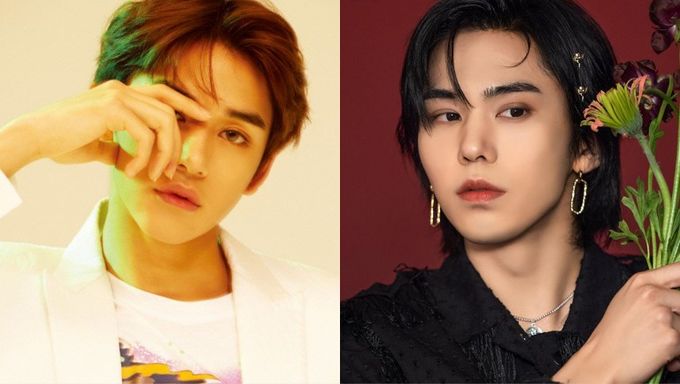 It is quite natural for some idols to expand their creative horizons by stepping into the acting world while maintaining their careers as idols. Oftentimes, these idols turn completely into actors after they either retire from their idol lives or start focusing on acting more than actively promoting their music. Either way, it is definitely commendable. It is always refreshing to see your favourite idols on screen in a K-Drama and it also presents them in a way that fans might not have imagined them as. At the same time, it also increases their fan following and popularity manifold. With the growing number of idol actors, it is only a matter of time before some more of our favourite idols also take on acting.
With that said, here are our picks of 5 K-Pop idols who should definitely give acting a try!
BTS' eldest member Jin is tall, broad and handsome. He gave us a glimpse of his acting ability in BTS' official game BTS World where he played a worker at a hotel who gets entangled with a closed-off young girl in need of affection and love. Ever since then, fans have been eagerly waiting for the day Jin debuts as an actor. It is also common knowledge that Jin majored in art and acting from Konkuk University and had originally intended to be an actor. With his military service enlistment coming up soon, it might not be a close possibility any time soon but perhaps after he completes his service, we might get Actor Jin.
Karina is known for her expressiveness on-screen and her ability to deliver on any given concept, regardless of whether it is a dark, noir concept or a peppy, cheery one. She has a bright and playful personality in real life but she's also incredibly sincere and hard working. She loves taking on new challenges in the form of new concepts. Naturally, therefore, it is not difficult to imagine Karina as an actor in a K-Drama, perhaps in the role of the tsundere female lead or even the girl next door because she'd be able to pull off both these roles equally well.
ITZY's YeJi has showcased her acting abilities in multiple music videos and concept trailers released by ITZY. She's insanely talented and clearly has a penchant for acting and dramas. It would be refreshing and downright entertaining to see her take on an acting project. We can totally see her as a peppy college girl or even as a supernatural gumiho, especially because of her face type which is commonly referred to as the "fox" type.
Lucas is one of the funniest members of NCT. It is a commonly known fact in the acting industry that comedy is all about timing and is quite difficult to pull off. However, Lucas seems to be able to do so effortlessly. Not only would he be a treat to watch on screen because of his godly visuals, but it would also be a fun time.
ASTRO boasts of one of the most popular and talented actors in the industry, Cha EunWoo. However, another potential hidden gem in this regard is most definitely Rocky. Rocky has an innate talent in acting, as is clear from his performance as The Mask on "Hit The Stage" and the fact that originally wanted to get into musical theatre when he was a wee child. However, we're more than glad that he is who is today but we can't help but wonder what it would be like to get Actor Rocky in the near future.
Who would you add to this list? Share your thoughts with Kpopmap in the comments section down below!