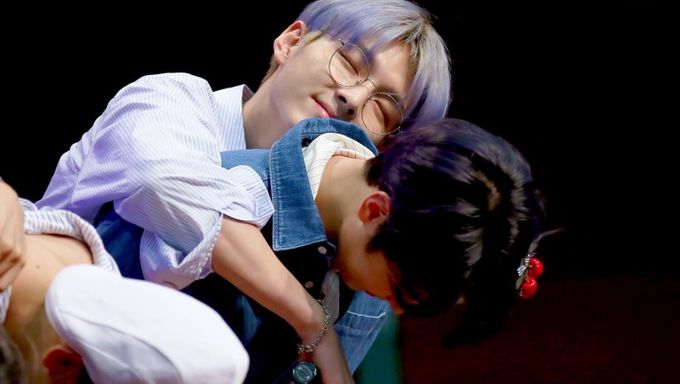 People have different ways of showing affection and different love languages. While some prefer spending quality time, others like words of affirmation or acts of service. Similarly, physical touch is also a valid love language and to many people, it is an important way of showing affection and expressing their feelings. Besides, romantic love isn't the only kind of love. Platonic love is equally as beautiful and we love to see our favourite K-Pop idols express their love towards their members or friends in this way.
Here are 5 K-Pop idols who show love through being clingy!
soft and sweet yutmark hugs ☺️🤗💕 #YUTA #MARK #MARKLEE #마크 #NCT #NCT127   #YUTMARK #loveYUsoMARK #유타  #マクユ #NakamotoYuta pic.twitter.com/WXYv9Xmjdk

— 진 🆔 (@gotneos) July 25, 2020
Perhaps the first idol that comes to mind when you think of clingy idols, is Yuta from NCT. He has always been open about his affection for his members, especially WinWin and Mark. At the same time, he doesn't always like being clinged on to. Fans say he's a heartbreaker for sure and we can't deny, especially with how handsome he is.
beomgyu most clingy to them#TXT_범규 #TXT_태현 @TXT_members @TXT_bighitpic.twitter.com/gEZuK6TfEF

— hourly taegyu (@taegyuhourly) July 5, 2021
BeomGyu is unapologetically expressive and doesn't shy away from showing it just because there are cameras around. The members gladly accept it too, creating a warm and lovely environment whenever TXT are being themselves and playing around.
look how clingy taehyung to jungkook 🥺

— ㋛lyn⁷ (@gomakkoo) June 23, 2021
On multiple occasions, such as "RUN BTS", "BTS In The Soop" and other such programs where the members are shown in their natural state, as they are in real life, it is quite common to see V being clingy with his members. What's more is that, V is equally clingy with all his members, hyungs and maknae alike!
we got to see clingy zuho again but this time with @tiniestdw 🥺

▪︎#zuho #주호 #dawon #다원 #sf9 #에스에프나인 @sf9official▪︎ pic.twitter.com/82ztr4MJD7

— tiny zuho! (@ZuhoTiny) June 27, 2021
Fans have often noticed that ZuHo has a cuddly cat-like personality. He's very affectionate with his members and loves getting their attention as much as he loves giving it to them. His warm personality shows through whenever he's on V-Live shows with another member or even during group promotions.
minhyuk being so clingy to changkyun #민혁 #아이엠 @OfficialMonstaX pic.twitter.com/2rVPWfl06Z

— rhon (@MINimalistHYUK) May 30, 2021
The fake maknae of MONSTA X, MinHyuk, gets babied all the time and he doesn't mind it, especially when he's getting pampered. However, he gives back with loads of love and affection, most of which have physical manifestations. Big bear hugs are a must with MinHyuk and we love seeing these clingy interactions. While he's equally affectionate with all the members, he's the most clingy towards I.M and JooHoney.
Who else would you add to this list? Share your thoughts with Kpopmap in the comments section down below!