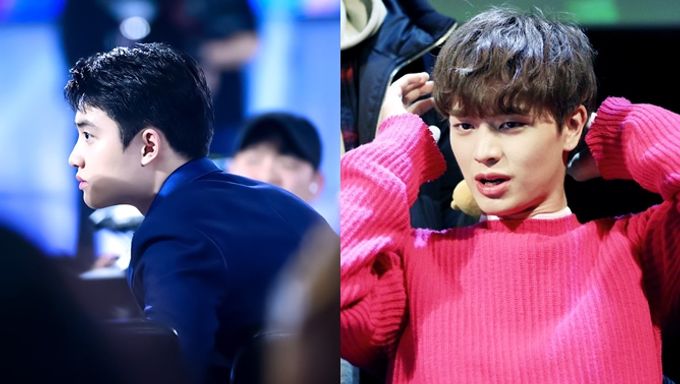 Here's are some K-Pop idols who attack your heart with their awesome voices which are lower and deeper than sound echos in a cave. 
If you just look at these idols' faces before listening to their voices, you must guess their voice is so cute and a quite high. However, they got such a deep and low-pitched voice that they could make you fall for them. Because you never expected that low and manly voice from that lovely and handsome looks, their voices can be unexpected charm!
Must Read : TOP 3 Idols Who Sings Unexpected Well and Surprised Everyone
If you think about it, this can be a good point for singers to sing well. then, check out who has that charming voice!
1. D.O. of EXO
Look at his lovely baby face! It's hard to imagine low voice with his face, but you must fall for him when you hear him talking, acting, singing with his low-pitched tone.  
2. P.O. of BLOCK B
As lots of fans know, P.O has low-pitched tone just like a sound echoed in the cave and raps well with his attractive voice. Maybe When God Gave the birth to P.O. god took too much effort making him because he got perfectly lovely face and look but also gorgeous voice.
3. Baro of B1A4
Anyone saw B1A4's debut performance must not forget shock Baro's deep voice-rapping gave. Still, his voice is a source of pride for fans of B1A4.
4. I.M. of MONSTA X
I.M. is maknae of MONSTA X, but he has most powerful voice unexpectedly. His voice is also acknowledged as a strong and deep voice by KiHyun of MONSTA X.
5. Yook SungJae of BTOB
As a maknae of BTOB, he used to get hyper in front of fans so most fans recognized his voice very high. However, his real voice is very deep and low enough to make fans fall in love with him.