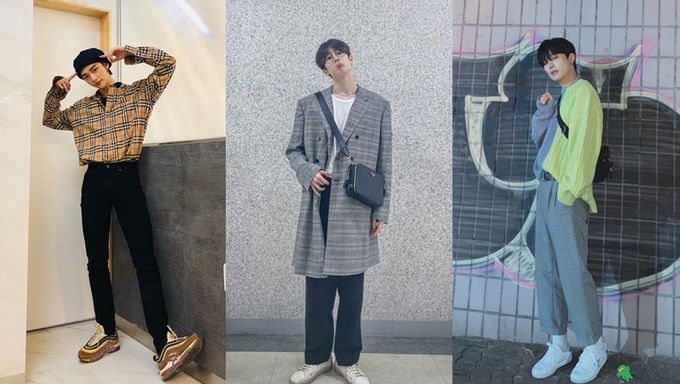 There are many reasons why autumn is the favourite season of many people and one interesting reason for K-Pop fans might be because of how they get to see their favourite idols in different outfits!
This is the time where K-Pop idols could be seen in cuddly sweaters or even long and charismatic looking coats.
Kpopmap had noticed how 5 different male idols have their own unique fashion sense and also give off a boyfriend material vibe at the same time.
Let's find out who they are!
#1 CIX's SeungHun
SeungHun is an idol who is daring in experimenting with different kind of outfits. Through pictures which he had uploaded for his fans, many could tell that he does not limit to a colour and even the type of tops.
From knitted sweaters, denim jacket to even a beret, it looks like there are tons of fashion items available in SeungHun's closest.
CIX will be making their long awaited comeback on Oct. 27 with "Chapter 3. Hello, Strange Time".
#2 VICTON's SeungWoo
SeungWoo can be mistaken as a model thanks to his heavenly body ratio and tall physique. Previously, he had mentioned that he likes to try on different kind of clothing to see what fits him the best.
So far, many of his fans noticed that he likes to carry a bag big enough to just carry the necessities. In addition, his cute and adorable facial expressions had also caused many to squeal and fall harder for him.
#3 Stray Kids's HyunJin
It is hard to predict what kind of fashion HyunJin would show as he had all along surprised and impressed many with his unique styling and choice of outfits.
In one occasion, he could be going for the youthful and bright look and on the other hand, he could also be cool and charismatic with dark clothing. On another hand, fans also pointed out how he also takes styling with accessories as an important part of his fashion.
#4 SF9's RoWoon
'Boyfriend' is probably the term many had coined with RoWoon ever since the big success of the drama "Extraordinary You" in 2019. His soft and caring images were highlighted and it turned out that his own fashion is rather simple and neat.
From simple cardigan to trench coat, RoWoon is absolutely capable of pulling off the boyfriend look. Perhaps it is also thanks to his tall height, those who had seen RoWoon in real life mentioned that he has an aura that no one could replace.
#5 BTS's JiMin
Many K-Pop fans would know that JiMin is a spectacular dancer and when it comes to fashion, he has his own styling that expresses his personality.
Compared to sneakers and sport shoes, JiMin mentioned that he prefers to wear loafers and fans could not help but agree that he looks good in them too. Sometimes, he would be dressed in outfits that is more casual and on another hand, many also wow at how classy and sophisticated his styling could be.