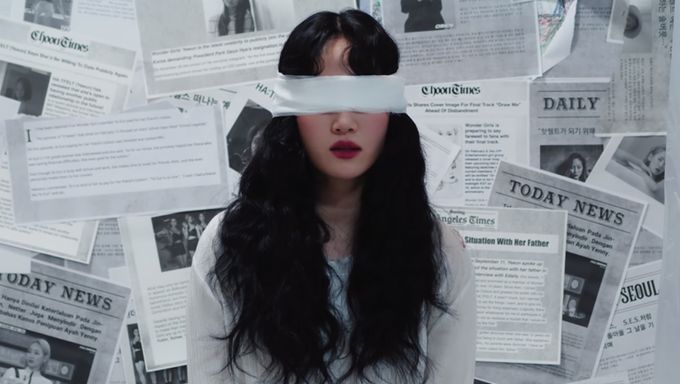 April is coming to an end and in the month, there have been numerous comebacks from various K-Pop groups and solo artists. For those who might have been too busy to catch up on the latest trend, Kpopmap is here to help you!
We have picked up 5 music videos from K-Pop idols who had made a comeback in April. Let's take a look at which music videos that you should definitely check out before we move onto the month of May.
This month was a really tough choice because there were so many spectacular groups who had made their comebacks after some time.
#1 (G)I-DLE - 'Oh my god'
From the outfits, sets, accessories and even the dancers, it looks like (G)I-LDE had outdone themselves once again with their return with 'Oh my god'. The story line incorporated in the music video had also caused many to wonder the message which they were trying to deliver.
Many were amazed by how the girls had also made use of colour contrast with black and white in the music video.
#2 CIX - 'Revival'
Although this is not a Korean comeback, CIX had released their Japanese single 'Revival' with an interesting shot music video. Perhaps the most captivating scene was when the boys were seen outdoor in the desert with various sets and props for each member.
The rotation of the camera as well as the different vintage filters gave a rather fresh and interesting take for the music video.
#3 OH MY GIRL - 'Nonstop'
OH MY GIRL is back with a refreshing title track 'Nonstop'! If you noticed in the music video, the girls had made use of many special effects which allowed them to go bigger and smaller compared to their usual selves.
Aside from that, the colour choice as well as the use of animation had also allowed viewers to have a different image of them! It looks like this time they are rising higher than before together with their creative concept.
#4 MAMAMOO's Solar - Spit it out
Solar has finally released her first ever solo album and title track 'Spit it out'. If you did not check it out, you should definitely do so with her jaw dropping music video.
It seems like Solar knows how to capture her fans' attention with bold and unconventional colour choices and also the fact that she had surprised them with a scene which she was 'bald'.
#5 HA:TFELT - 'Life Sucks'
HA:TFELT, or better known as YeEun from Wonder Girls, had released her first ever full length album. The song 'Life Sucks' is fully in English and it had allowed many to notice how the song was making a reference to the controversy which her father had.
On a closer look, some might noticed that she had only made use mainly of 3 colours, red, white and black, in the music video. This might also contribute to some of the themes which she was trying to deliver as well.
Read More : 5 K-Pop MVs Released In March 2020 That You Should Not Miss