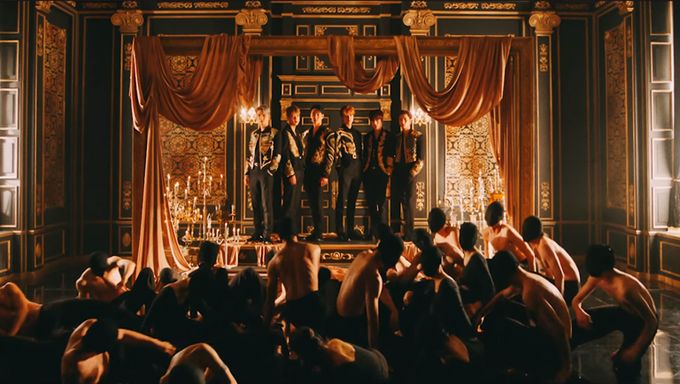 May is coming to an end and in the month, there have been numerous comebacks from various K-Pop groups and solo artists. For those who might have been too busy to catch up on the latest trend, Kpopmap is here to help you!
We have picked up 5 music videos from K-Pop idols who had made a comeback in May. Let's take a look at which music videos that you should definitely check out before we move onto the month of June.
This month was a really tough choice because there were so many spectacular groups who had made their comebacks after some time.
#1 TXT - 'Can't You See Me?'
TXT is back with their 2nd mini album and title track 'Can't You See Me?' and K-Pop fans who have been following the artists of Big Hit Entertainment, you would notice that they never use computer graphics.
Many were amazed to see the amount of tomatoes they had used in the music video and also the fire scenes in the background. Aside from those, fans were also left gasping over all of their good looks.
#2 Park JiHoon - 'Wing'
Park JiHoon has returned with his 3rd mini album and title track 'Wing'. Through his colourful and aesthetically pleasing music video, his fans, MAY, were able to see how much effort was put into the production. One particular scene which was loved by many was the part when he was standing on the orange vehicle while holding a colored smoke cartridge.
With the amazing camera work and effects, it looks like MAY had another chance to eye candy the gorgeous features of Park JiHoon.
#3 Moon JongUp - 'Headache'
Many would recall JongUp from B.A.P and he had finally released his very first album and title track 'Headache'! Through the music video, many were able to follow a cute and lovely story between the idol and a lucky girl. The music video also gave a retro vibe thanks to the light filter and props used.
JongUp was also seen charming many of his fans and viewers with his smooth and light dance steps together with the song.
#4 BTS's Suga / Agust D - 'Daechwita'
It looks like Big Hit Entertainment is unstoppable as they had put out another amazing music video for Agust D. For this 2nd mixtape "D-2" and track 'Daechwita', the music video was set in a historical time with him acting two different roles.
Through various scenes, fans were able to spot many clues which contributed to the message which he was trying to express in the song. Another part which caught the attention was when members JungKook and Jin had also made a cameo in the music video!
#5 MONSTA X - 'FANTASIA'
MONSTA X is back to blow your mind with their title track 'FANTASIA'! Going strong with the colours black and gold, MONBEBE was able to notice how they had also recruited numerous contemporary dancers to work in the music video too. For some it might look 'creepy' with the hidden faces but it also added an artistic feel to the overall music video.
Aside from that, they also could not help but be amazed by the synchronized choreography between the members.
Read More : 5 K-Pop Groups Coming Back In June With A Flowery Touch