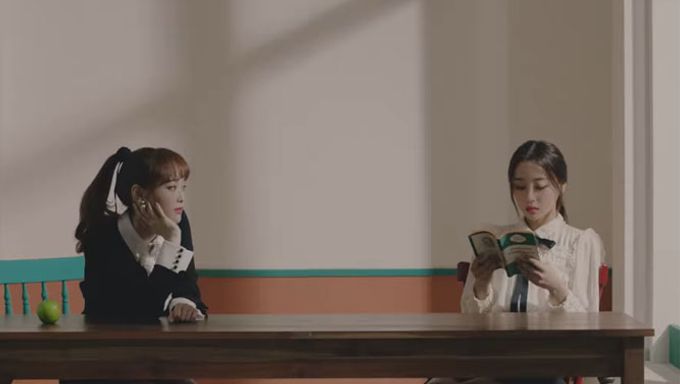 LGBT has been a sensitive issue for many people even up till now. However, in K-Pop there has been an increasing number of K-Pop idols who are addressing the LGBT issues through their music videos.
Let's take a look at them.
#1 Neverland by Holland
Holland is the very first singer in the music industry to come out openly as gay especially at his debut. In his music video, he portrays the dating scenes of how a gay couple would do such as going to the beach. In addition to that, there was a scene where he kissed a guy that had shocked many. However, he has been receiving words of encouragement and support from his fans for being proud of who he is.
#2 Heart Attack by LOONA's Chuu
LOONA Chuu's music video is also another music video which addresses liking someone of the same sex. In the music video, Chuu was seen having a crush on fellow member Yves. For every action done by Yves, Chuu would feel fluttered. With her unique concept, her music video is well-received especially from fans in Europe. In addition to that, Billboard had also written an article praising about her music video at the start of 2018.
#3 Bad Boy by Red Velvet
When fans first noticed the title of the song, they thought it was going to be a song about the romantic love between a girl and a boy. However the more they listened to the lyrics and watched the music video, they realized that it may be a story about LGBT. In the music video, Red Velvet members were seen very close with each other, suggesting the possible love interest between the girls.
#4 Egoist by LOONA's Olivia Hye
Another member from LOONA who had touched on LGBT issues is Olivia. In her debut music video 'Egoist', it talks about how one is feeling hurt after going through a heartbreak. However, she still prays that there will be a chance for her to get back the love she used to have. In addition, she was seen hugging another 'girl' and also lying on the bed intimately together.
#5 What is Love? by TWICE
The most recent music video got to be TWICE's 'What is Love?' As the title of their song suggested, it seemed like the members were trying to figure out the answer for love. Inside the music video, there was a scene from classical movie "Ghost" which Sana and JeongYeon reenacted. Sana was seen attempting to kiss JeongYeon while hugging her from the back.
Even though some fans may find it as an innocent action, many are also surprised that JYP Entertainment has also agreed to this concept. Nonetheless, many fans are loving their new comeback.
Read More : #METOO Kudos To These Celebrities Supporting The Movement