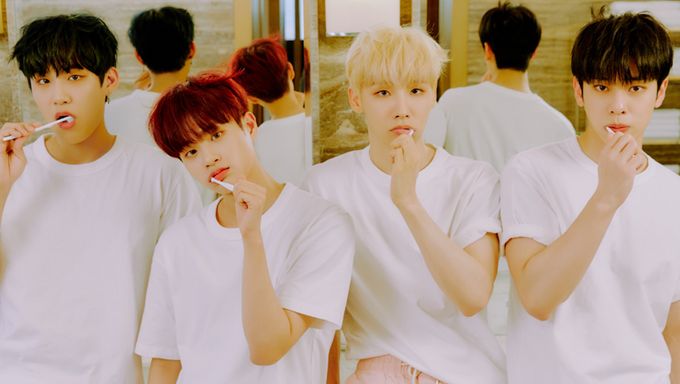 April is coming to an end and we are welcoming May in just a day's time. If you are curious to learn more about the comebacks for May, check it out here.
Kpopmap is here to share with you 5 K-Pop releases that we thought you should not have missed out on in April!
Note: This is not a ranking.
1. SHINee'Atlantis'
Back with a repackaged album and title track 'Atlantis,' SHINee confirmed that they are a veteran group with their dynamic performance and stable live vocals. Despite years after their debut, they are still taking on difficult and hard to pull-off choreography that could only cause fans to love them even more.
In addition to the song, the music video also looks gorgeous with the unique computer graphics and ocean-themed concept that K-Pop fans have not seen before.
2. BIBI 'BAD SAD AND MAD'
Not many know about BIBI but she is a solo artist with a voice that would make you want to listen to her songs over and over again. Fans love her calm and soothing voice.
Returning with 'BAD SAD AND MAD,' BIBI proved that she is an artist who can catch your attention quickly. Some might find her quirky but you have to admit that there is just something special about BIBI that no one can replace.
3. Red Velvet's Wendy 'Like Water'
After spending time to nurse her health, Wendy debuted as a solo artist with 'Like Water'. Her debut marks her return into the industry, touching and reaching out to so many people with her voice.
Fans have missed her so much and found it emotional when they saw her perform and promote her song on stage. If you are looking for a song filled with comfort and healing, 'Like Water' is definitely for you.
4. AB6IX'CLOSE'
AB6IX had made their comeback with 'CLOSE' and it is the perfect song for those who want to let loose and relax. Just like their previous albums, 'CLOSE' shows a hint of the unique musicality of AB6IX and there is no doubt that the boys had found their one-of-a-kind colour.
In addition to the upbeat song, we love how beautiful the music video was filmed. Make sure to check out not just their handsome visuals but also the message which they are delivering in the music video.
5. LUNARSOLAR'DADADA'
Who's up for an EDM-based track by rookie group, LUNARSOLAR?
Making their comeback with 'DADADA', the girls showed that they are ready to take on various music genres that differentiate them from other groups out there.
From the eyecatching dance movements to the addictive rhythm of the track, you will find yourself putting the song on repeat.