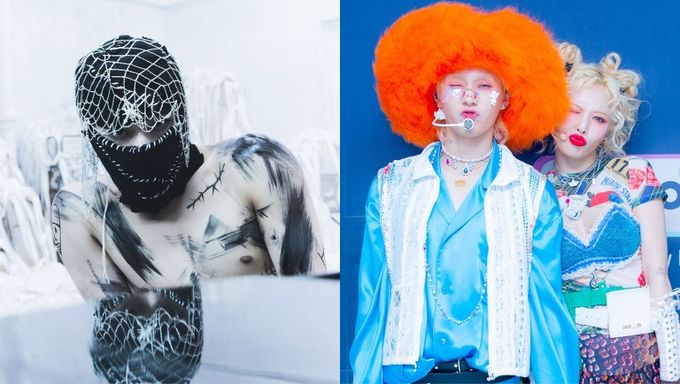 Halloween is almost around the corner and with Halloween comes the age-old dilemma of costumes. Cosplaying and dressing up counts as a Halloween tradition that also happens to be one of the most popular and beloved ones of all time. It is the one day of the year that anyone and everyone can be who they want to be without any judgement. It is thus quite imperative to choose a look/character that you want to go as for Halloween. If you've run out of ideas, we've got the perfect list for you, inspired by some of our favourite K-Pop looks. 
Here are 5 K-Pop idols with the perfect Halloween inspo!
San's look for ATEEZ's performance of 'Black Cat Nero' was iconic, to say the least. It is also the easiest look that you can master in time for Halloween! All you need is a lip to ear chain piercing, purple lenses, some red lipstick, brown and red eyeshadow, some hair gel and you're good to go! As this is predominantly a smudged look, you don't have to be the best at makeup either! Just have fun.
If you're looking for a couple's costume, look no further! K-Pop royalty HyunA&DAWN's music video for 'Ping Pong' is a goldmine of inspiration for Halloween. If you want to look edgy yet cute and above anything, like the coolest couple on Halloween, go for this look.
Y2K is all the rage in 2021 and if you want to look like an absolute stunner who is also on-trend, SunMi's look for 'You Can't Sit With Us' is perfect for you. Long nails, mini-skirts, bows, and bright colours: this look screams "diva". Any K-Pop stan would instantly recognise this look and if they're not a part of the community, you'll still look the best at any party so it's a win-win!
If you and your AROHA besties are looking for the perfect Halloween squad costume, take a trip down memory lane and give foetus ASTRO a throwback. Dress up like a box of orange sodas like the members in the music video of 'Breathless' and hit the town (safely) on Halloween to have an ASTRO-themed Halloween of a lifetime!
TaeMin gave us some incredible looks for 'Advice' era. This look in particular, especially with the smudged ink style tattoos, chains, the face-cover and the ripped jeans, is simply too cool. If you'd rather cover up, a nude full-sleeved bodysuit would do the trick just as well. This costume would need a little bit of customising but nothing you can't do yourself at home. 
We hope you have a great Halloween and don't forget to tag us in your pictures! Let us know if you'd like us to give you some more K-Pop-inspired suggestions for Halloween! Share your thoughts with Kpopmap in the comments section down below!