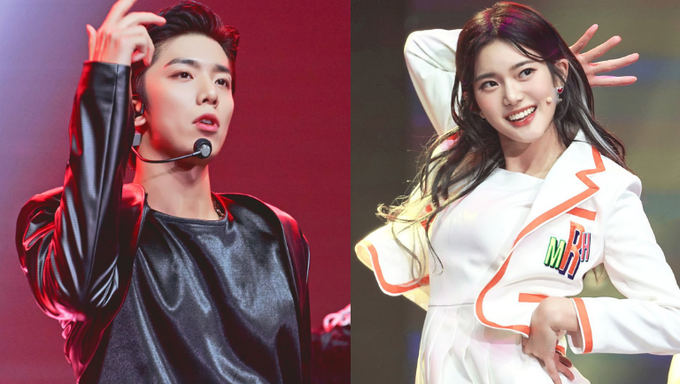 Popular webtoon turned K-Drama "Imitation," ends this Friday with the final episode airing on July. 23. The drama brought K-Pop and K-Drama fans the best of both worlds with an idol cast and an interesting storyline.
One of the fans' favorite interactions on the show was between SF9's HwiYoung (who plays SHAX's LeeHyun) and solo artist MinSeo (who plays Tea Party's Ria). Although Tea Party's Ria made it obvious, multiple times, that she wanted nothing to do with any of the SHAX members, anybody watching this drama can't deny the underlying chemistry between these two characters.
Here is a list of some of the low-key romantic moments shared between Tea Party's Ria and SHAX's LeeHyun.
Warning: this article contains spoilers for episodes 1-10 of  "Imitation."
1. The moment they met
Although they both knew about each other's groups, the pair met for the first time when there was a scheduling clash at their recording studio. Besides barely knowing each other, after watching this scene you could already tell that something was going to happen between the two. LeeHyun's curiosity got the best of him and had him asking who Ria is, after hearing her sing. He complimented her under his breath and she returned a nonchalant acknowledgment.
2. The start of their cat and mouse routine
Ria asked the producer at their studio whether he could teach her about music properly. However, their meeting was interrupted when Lee Hyun walked into the room and claimed he had overheard their conversation. He immediately took over and asked Ria if they could work together in the future. He even boldly held out his hand for a handshake which she rejected.
Later, Ria was telling the other Tea Party girls all about it and brushing off his interest in working with her. She even reiterated that they should never get involved with the SHAX boys. Something about her tone, though, says that she enjoyed the attention.
3. When LeeHyun missed the timing to see her
One of the moments that gave away their low-key chemistry (more on LeeHyun's end), was when LeeHyun purposefully dropped by the recording studio to see Ria. Much to his disappointment, she wasn't there and he had just missed her. Their producer seemed very amused by the situation, especially since LeeHyun was trying to play it cool.
4. When LeeHyun appealed to her as himself and not a member of SHAX
When LeeHyun finally managed to run into Ria at the studio again, he was so happy that she was finally acknowledging him. Clearly mustering some courage, he asked her whether she had thought about working together and she again declined, saying that she doesn't want to work with SHAX members.
So, he appealed to her as himself. This was one of their cutest moments because it just shows how much he wanted her to work with him (and low-key like him) for who he is and not which group he is in.
5. Their 'Mini Date' performance stage
When Ria's partner had to pull out of their performance at the last minute, LeeHyun offered to step in and be her partner for a performance stage. Finally, LeeHyun got his wish to work together and Ria gave him a chance. They did a hip retro-styled performance to a song called 'Mini Date' and their chemistry was unmatched. Not only did the two look like they were having fun, but the performance gave off flirty vibes as they danced together.
Some fans have expressed frustration at how slowly the relationship between LeeHyun and Ria has developed. They have expressed concern that it seems like the final episode will come and go without the pair giving in to their chemistry and confessing to each other. What do you think? Do you think LeeHyun and Ria will finally confess to each other by the final episode?