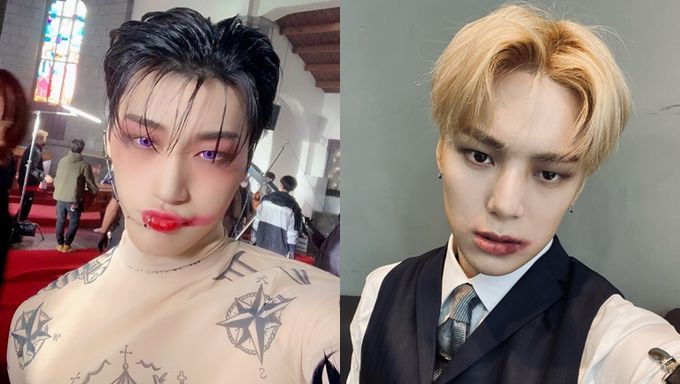 K-Pop idols are seen with a lot of different stage make-up including fake scars, flashy eye shadows, and more. One of these stealing fans' hearts is the smudged lipstick.
It is not a common make-up among male K-Pop idols but those who have tried it give a mature and seductive aura. We would like to see more of it.
It is a look not easy to pull off but these 5 male K-Pop idols charmed fans with their smudged lipstick.
Note: this is not a ranking.
During the promotion of 'Love Killa', MinHyuk first surprised fans with smudged lipstick on concept photos. Later, he also smudged his lipstick for his ending fairy pose which of course ended up being a hot topic among fans. Those who have seen it could only fall for MinHyuk's seductive look.
NU'EST just released their 2nd album 'Romanticize' and MinHyun was seen with smudged lipstick on the trailer. Fans were left breathless at his handsome look perfectly suiting this make-up. MinHyun has also been endorsing lipstick products and there is no wonder why.
3. TXT
TXT fans would remember for sure the members' make-up for the Halloween version of 'We Lost The Summer'. YeonJun's smudged lipstick is the most noticeable as it is spread all over his lips and not on one side. We can't help but take a second look.
BaekHyun was also seen with smudged lipstick for his 2nd mini album "Delight". To keep his promise, he also performed an encore stage of his title track 'Candy' with smudged lipstick after his win on "Music Bank". Fans have been joking about "expectation vs. reality" because BaekHyun's smudged lipstick on "Music Bank" was funny and cute.
5. ATEEZ's San
San nailed the smudged lipstick style in the Halloween performance cover video of Turbo's 'The Black Cat Nero'. This makeup along with the lip piercing gave him a dangerous yet attractive look. He was also spotted with smudged lipstick on "KINGDOM: LEGENDARY WAR" but the performance is not released yet.