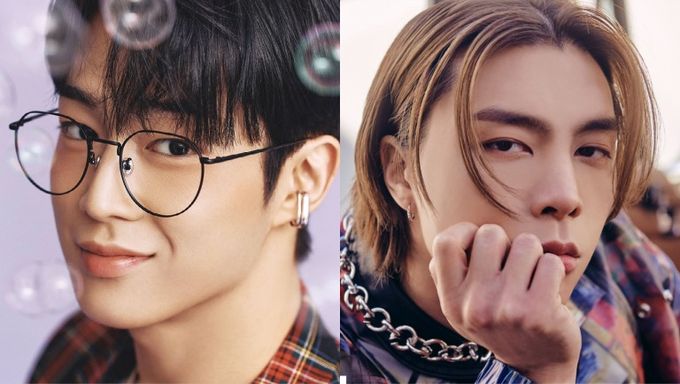 Have you ever felt like your idols know a little too much about what goes on in their fandom? Perhaps you've been looking at edits of your bias in different hairstyles and the next week, you see them sporting the exact same hair colour and style? Even better, have you made punk rock edits of your favourite idols yourself, with tattoos and piercings, and soon after, they show up in tattoos and piercings for their comeback concept? Maybe on V-Live broadcasts, they seem to be in on your inside jokes and even expressly confess that they know all about what their fans talk about on the internet? If you've ever experienced anything like this, you must have wondered whether your idols were secretly watching your fandom's every move. 
Here are 5 male idols who we believe definitely have secret stan accounts!
DaWon's awareness of FANTASY and everything they talk about is almost a little intimidating. It is a commonly known fact that his intelligence is beyond our understanding but when combined with the way he makes references to FANTASY's inside jokes at times, it definitely feels like he has secret social media accounts.
Bang Chan knows too much and that is simply a fact. He knows exactly what STAY talk about on the internet, especially on stan Twitter and he doesn't seem fazed by it at all. As a matter of fact, his V-Live comments are quite similar too! Thanks to this understanding however, STAY and Bang Chan are pretty much best friends for life who share the same sense of humour.
THE BOYZ' Kevin is a GEN Z icon so it wouldn't be surprising at all if he were to have a secret social media account to keep track of the outside world. Kevin and DEOBI are always on the same page, which makes their interactions that much funnier. 
NCT's official Twitter account isn't less of a stan Twitter account, especially with the way the members reply to fans' comments but Johnny, out of all the members, has to have a secret account. The chaotic energy is simply too strong with him and his humour is too good to be limited.
Who can forget the time ARMY collectively freaked out when V appeared with bright blue hair and admitted that he got the idea from a fan edit? How could this be possible if not for a secret account? It definitely gave ARMY the impetus to create more unique content because their idols might be watching!
Who else do you think has a secret social media account? Share your thoughts with Kpopmap in the comments section down below!