Who would believe that "Romance is a Bonus Book" is the first romantic-comedy of Lee JongSuk? Hard to believe it as the actor is hilarious and this drama genre suits him perfectly.
Lee JongSuk and Lee NaYoung have great chemistry. Lee JongSuk (as Cha EunHo) has a one-sided love for Lee NaYoung (as Kang DanYi) since a long time. As their relationship evolves, Lee JongSuk has many hilarious and cute scenes where his feelings for the girl can be felt. Here is a selection of them in not a particular order.
Be aware of spoilers. Let us know in the comments what is the funniest and cutest scene of Lee JongSuk in the drama for you.
1- Comedy Scene
From the first episodes, Lee JongSuk and the publishing company employees made viewers laugh. The drama opened with their hilarious swag.
2- Jealous Scene
Hard to choose only one scene when it comes to Lee JongSuk and his jealousy.
In this scene, Wi HaJoon (as Ji SeoJoon) has a crush for Lee NaYoung when she is out to meet him, Lee JongSuk is relieving his anger on the doll she received from the second male lead.
And when it comes to Wi HaJoon's food, it is of course "salty" with a cute smile.
3- Cute Self-Promotion Time
When it comes to his self-praising and self-promotion to Lee NaYoung, Lee JongSuk tries to stay "modest" ... or pretends to.
Will Lee NaYoung fall for his cute "Do you want to touch my biceps?"?
4- Super Happy and Excited
Lee JongSuk is deeply in love with Lee NaYoung. Everything she does, he loved it. In the middle of the bathroom cleaning, he wrote 'DanYi' with the sponge and started to sing with his brightest smile. For sure, it is one of the cutest scenes of this drama.
EunHo is Cute! EunHo is inlove 💋 pic.twitter.com/zIAv8UEOlL

— WithLeeJongSuk (@LeeJongSukWorld) March 3, 2019
5- Surprised Lee JongSuk
The reaction of Lee JongSuk as he eavesdropped colleagues talking about Lee NaYoung kissing her boyfriend (himself) last night is just hilarious.
Read More : 5 Reasons Why Viewers Can Only Fall Deep In Love With Poetic Lee JongSuk In "Romance Is A Bonus Book"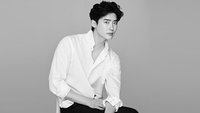 Became a fan of Lee JongSuk
You can now view more their stories