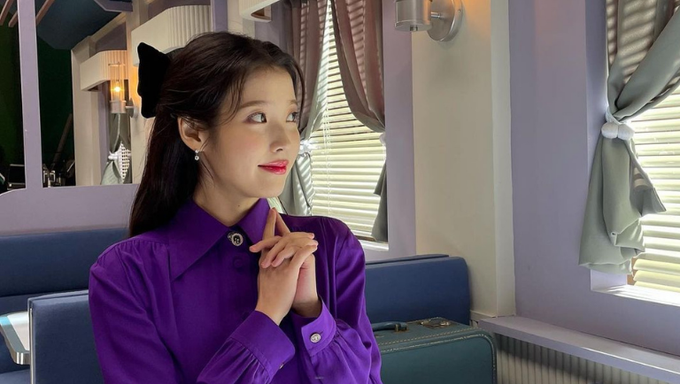 Spring in South Korea is almost always associated with cherry blossoms and upbeat songs about falling in love. There are a number of songs that play on repeat, throughout the country every spring, sung by popular artists such as IU, Busker Busker, 10cm and more.
However, with the change into a new season, it's always nice to have some new music to listen to. This list will showcase some songs released in 2021, from the least to most underrated, that would make the perfect addition to your spring playlist.
1. 'Lilac' by IU 
The first must-have addition to your spring playlist is by the queen of spring-themed songs herself, IU. "Lilac" is the title and title track of her fifth studio album and carries great symbolism. Lilac flowers symbolize memories from her 20s as she bids the years a sweet goodbye with her upcoming 30th birthday. The song itself is upbeat and reminds you of that excited feeling you get just before going on a spring picnic for the first time after winter. She sings of departing for somewhere new, but leaving without a trace of sadness despite some bad times. 
"This ending matches right. It's like the falling petals. Our ivory colored spring climax. How glorious it is!"
The chorus talks about how beautiful it is to be able to say goodbye under such lovely conditions and look forward to what's next. So say goodbye to the winter and old season, be nostalgic about the good moments and take off into spring with IU's 'Lilac'. 
2. 'Springtime' by WheeIn
This song is from MAMAMOO WheeIn's first mini album "Redd" and starts us off with some giddy melodies (anticipating something good) before her smooth voice joins in. She describes a love that is warm and growing like the bloom of cherry blossoms and how she wants to give every element of spring to her significant other, in the form of a song. It feels exactly like the fluttery feeling that comes with the spring sunshine.
"Spring thanks you for waiting for it. Spring promises that it will stay by your side."
And we thank WheeIn for giving us this spring bop.
3. 'I Will Light Your Way' by Kassy
'I Will Light Your Way' is our next recommendation with its sweet melody that makes us feel like the petals drifting through the spring breeze. It is sung by solo artist Kassy, who debuted in 2015 and is best known for her time on the Korean survival show "Unpretty Rapstar 3."
Not only do the music video and song epitomize the warmth and delightfulness of spring, but the storyline has us feeling optimistic, too. Kassy sings about wanting to return the love that she has received by lighting her partner's way, so that they can never experience darkness. This is the perfect song for embracing the brightness of spring.
4. 'My Spring, Your Flower' by LeeZe
LeeZe (also known as Lee JiHye) participated in "The Voice Korea" in 2020. She released her music video 'My Spring, Your Flower' on May 2, of this year. This song matches the sentiment of longing that comes with spring. 
Starting with planting her rose in the ground,  the video moves on to LeeZe's piano piece where her floral tattoos are on display against hazy white visuals. She opens by singing a line wondering whether her flower has bloomed in the heart of another with the start of spring. Reminiscing about the recent break up, she urges her former lover (who is like the spring) to embrace her (who is like a flower) and rekindle what they had.
This is a great song to listen to if you need an empathetic musical hug for the days that spring doesn't look so bright.
5. 'Spring Picnic' by Seo SungHyuk
Seo SungHyuk spoils us with a 'Spring Picnic' and his flower boy visuals. Having gone solo since his time on "Produce 101" Season 2 and the disbandment of his group RAINZ, he has been releasing some good singles. On this track he asks, "How about a spring picnic?" a line that many of his fans would probably love to hear from him, and perhaps some of us want to hear from someone this season. Let SungHyuk take you away with this breezy feel-good song.
Do you have any other K-Pop songs that you'd like to add to this spring playlist? Add them in the comment section down below!