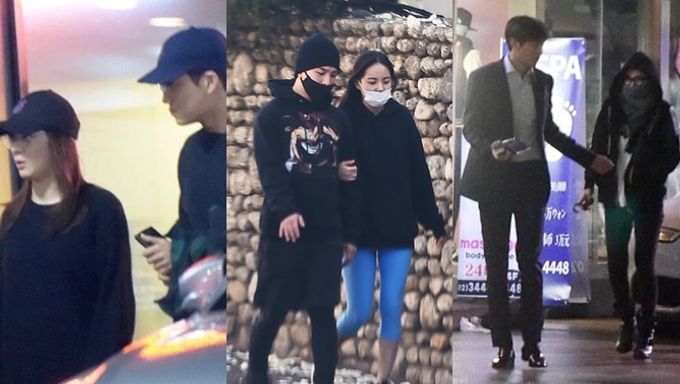 Here are the tail tail signs that your K-Pop bias is currently in a secret romantic relationship!
Idols are humans too! They're bound to become attracted to someone in one time or another, and they should be able to freely express their romantic relationships like any other person. Even so, due to agency rules, sasaeng fans, and the unforgiving public, our idols hide in secret when they date. They try their hardest, but many couple are found and revealed through specific evidences found by netizens.
Must Read : Red Velvet's Irene Rumored to be Dating EXO's SeHun or Simon Dominic
Netizens formed a list of 5 unique behaviors that are usually a tail tail sign that the idol is secretly dating. Does your favorite oppa or unnie fit the bill?
1. They have a very specific set of characteristics when describing their ideal type. For example, during her secret relationship with Choiza, she described her ideal type as dependable, fatherly, and someone who listens to what I say.
2. They do things on broadcast that they've never done before. It's a well known fact that idols use special gestures as a secret shout out to their secret lovers. For instance, an icy idol suddenly shooting aegyo all over the place on stage after a music show win can mean that he's secretly dedicating the win to his girlfriend.
3. They buy a new car. Fans declare that an idol buying a new car usually means that they started a secret affair. In a country with great transportation methods and managers on call, idols usually don't need a car of their own. Netizens claim that idols buy cars to have secret car-dates or to throw off the paparazzi by having a date in a new car.
4. It's difficult for them to focus on their activities. Ever see an idol having a hard time focusing during a broadcast or an event? Fans will jump on that as a sign of secret dating. Because they're overwhelmed with thoughts of their special someone, they usually start day dreaming even during a filming.
5. The fans know. The intuitions of a fan match the powers of a woman's intuition. Fans who get to personally know their idols, down to his/her every little behavior, can usually tell when something's up. Some say that hardcore fans are always a step ahead of Dispatch! If a rumor starts circulating between hardcore fans - you can be pretty sure that secret romance is in the air.