2017 may have been an exciting year for K-Pop as we've seen record-breaking accolades and new rising stars. But as much as it has been sweet and delightful, there has been just as much pain and tragedies as well.
This year was a time when we had to regretfully let go of some of the most loved and precious South Korean celebrities. Although they may no longer physically be with us, their legacy and memories live through their fans and what they've accomplished.
Kim JooHyuk (October 3rd, 1972 - October 30th, 2017)
Kim JooHyuk was a South Korean actor, known best for his leading roles in 'My Wife Got Married', 'The Servant', and 'Yourself and Yours'. He was an actor who was admired by not just both countless male and female fans, but also by many prominent figures in the South Korean film industry. He was killed in a car accident. The cause of the car accident is still unknown and police have stated that the investigation is closed at the moment until further evidence of defect in the vehicle. 
Kim YoungAe (April 21st, 1951 - April 9th, 2017)
The South Korean actress lived a life filled with turbulence. From illnesses, scandals, trouble-ridden businesses, and legal troubles. But every single time, she managed to fix everything through her career as an actress. Her trademark voice, that reminded the audience of an innocent young girl, her majestic gaze, and delicate facial features were all the more reasons why South Korea couldn't help but love her. She rose to stardom after appearing in 'Empress MyeongSeong' in 1973. She passed away from pancreatic cancer at age 67.
Kim JongHyun (April 8th, 1990 - December 18th, 2017)
Kim JongHyun, a member of South Korean K-Pop idol group SHINee, passed away in the most unfortunate and tragic circumstances. He took his own life by asphyxiating in charcoal smoke inside a residence he checked into on December 18th. He was loved by K-Pop fans all over the world for not just his talent and charming good looks, but also for his kind and loving personality. He was a strong advocate for improving South Korea's education policies and LGBT issues. 
Choi SeoIn (October 18th, 1983 - December 18th, 2017)
Choi HoJin, know better as Choi SeoIn was a South Korean comedian. She is an alumnus of South Korea's SeJong University as a music major. She has entertained and given joy to South Korea through her witty sense of humor on Comedy Big League. She passed away from cancer.
Lee MiJi (1960 -November 27th, 2017)
The veteran South Korean actress debuted for the first time in 1981. Her earlier works include dramas and films including 'It's OK Because I'm A Mom' and 'Untold Scandal'. During her younger years in the 1980's, she was considered to be a sex symbol. She spent her final years living alone and passed away from natural causes of death in her home. Her body was found weeks after her death.
Must Read : Japanese Netizens Are Begging This K-Pop Idol To Star In AV Porn Video
Became a fan of JongHyun
You can now view more their stories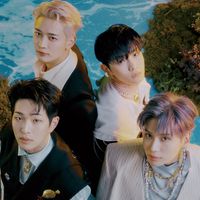 Became a fan of SHINee
You can now view more their stories