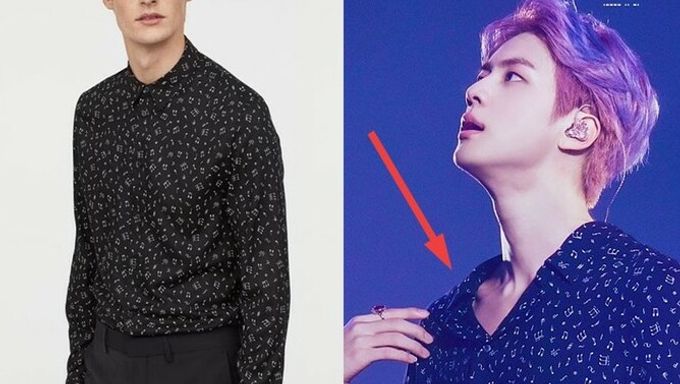 It doesn't matter what you wear when you're a K-Pop star.
Whether it be a $10 tee from H&M or a $20 shirt from UNIQLO, if you look great, you can make even those pieces of clothing look like they're from Saint Laurent, Gucci, or whatever.
You can check out five moments below when K-Pop stars made cheap clothing look expensive.
Jin (BTS)
World-wide handsome BTS member Jin's visuals are proving to be a cheat key as it's impossible for him to look bad in any situation. That shirt he's wearing is actually an H&M shirt that costed around $11.
But it definitely doesn't look like an $11 shirt because, well, he's the person wearing it.
IU
IU is gorgeous, talented, and super rich after having written hit after hit in the K-Pop scene. But because she can look good in anything, she doesn't always have to spend the big bucks on clothing. This top costs around $70 and is from a brand called RAIVE.
Lee DaHee
Lee DaHee looks exactly like a super-rich socialite in Gangnam right? But guess how much that plaid one-piece costs? Around $80. The piece is from Sezwick.
Jennie (BLACKPINK)
Jennie is simply beautiful and just looks rich. Which is why her nickname 'human CHANEL' suits her perfectly. While she is known to have one of the most expensive wardrobes on the planet, she does also dress in cheap clothing from time to time as well. But that by no means imply that the clothing looks its price. In fact, anything that she wears, many people will most likely assume it costs more than the cost of several of their outfits put together.
Tiffany (Girls' Generation)
Tiffany, who is also a super rich and glamorous K-Pop idol, doesn't always wear expensive clothing. Why? Because she knows she can turn this $90 H&M coat looking like a $100,000 coat by a high-end designer brand.
Read More : Where To Get BTS RM's Recent Airport Fashion Clothing That ARMY Have Been Raving Over