Sawadee Kap! These days, idols from Thai are getting much attention and popularity. You can check out Who they are here.
It's global era, as we all know. However, Korea has been a quite conservative area especially for foreigners so far. Among lots of K-Pop idols, foreign members were considered as unique existences. As time goes by, not a few foreign idol members appeared and they got huge amount of popularity from K-Pop fans. They are not strangers to fans anymore, but they are special stars who deserve warm welcome. Recently, as you can see by BLACKPINK's Lisa, idols from Thai are raising sense of their existence. We are going to introduce amazing lineup from Thai, below. Here we go!
Must Read : 10 Language Master K-Pop Idols Who Can Speak More Than 3 Languages
1. BLACKPINK's Lisa 
One of the hottest K-Pop girl groups, BLACKPINK's cute maknae, Lisa came from Thai when she was 14. She got the glorious position, which is the first foreign member in YG entertainment. She shows why YG chose her through perfect dancing skills, fluent Korean, and attractive personality. Her real name is Lalisa Manoban.
2. NCT's Ten
SM's rookie boy group NCT has a foreign member, who is Ten from Thai. His real name is Chittaphon Leechaiyapornkul. Before he debuted as NCT, he won the second place in Thai idol audition competition. He got good singing skills and perfect looks for idols. After he finally passed SM entertainment's audition and he keeps seizing his opportunity as NCT's member.
3. GOT7's BamBam
JYP's awesome boy group, GOT7's BamBam hailed from Thai. His real name is Kunpimook Bhuwakul. Young BamBam has been influenced by his mom who was a big fan of Rain, the former artist in JYP entertainment. He won the dancing contest to cover Rain's performing and finally entered JYP. 
4. CLC's Sorn
CLC, that came back with a new song recently, has a foreign member, Sorn. She was called as Chonnasorn Sajaku in Thai and her stage name was named after it. Sorn won the survival idol contest around 5 Asian countries and entered CUBE entertainment. She is well known for her amazing performing skills and fluent Korean.
5. Real Girls Project's Mint
Mint, who started as Tiny G's member, came from Thai too. Her real name is Goonshipas Peonpaweevorakul. Mint is having solo activities and appearing in "IDOL M@STER.KR" as an actress. It shows she is entertainer.
6. 2PM's Nichkhun
Nickhun was almost first Thai idol who got popular. Since his day 1 after the debut, he has been called Thai prince due to his elegant look and handsome face. His real name is Nichkhun Buck Horvejkul. When he lived in America, he participated in Korean festival and was scouted by JYP's staff.
You might be surprised by the number of Thai idols which is not a few. We all know it's not easy for them to work in foreign country away from their family. K-Pop fans are cheering up them to have amazing activities in Korea!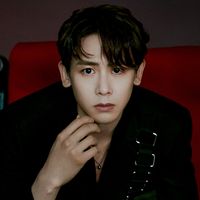 Became a fan of Nichkhun
You can now view more their stories