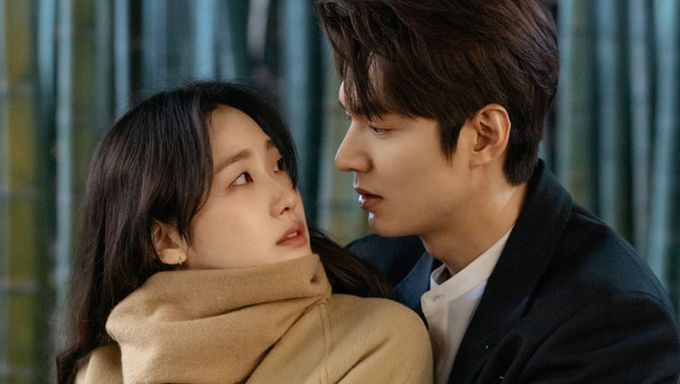 "The King: Eternal Monarch" ended and it is hard to move on after such a perfect drama. The story was fascinating and addictive. One of the reasons for it was the drama impactful episode endings that got us all "how do I wait for next week!".
Waiting for new episodes every week was painful and even harder when the episodes ended with such poignant endings. They made us connect with the story better and build up anticipation episode after episode. We've gathered the best 6 endings of the drama according to us.
Let us know in the comment what was the best episode ending according to you.
Be aware of major spoilers.
Episode 4 - Romantic horse ride to the parallel world
At the end of episode 4, Kim GoEun was convinced by Lee MinHo about the existence of a parallel world. She agreed to go with him to the other world on his horse Maximus. On a soft OST and a snowy night, they crossed the world on a romantic ride.
Meeting the guards, Kim GoEun got a shock and Lee MinHo asked them to step back.
He whispered to her "See. I was right, wasn't I? I'm the king of the Kingdom of Corea. And my name which cannot be say is Lee Gon."
Episode 8 - Woo DoHwan & Kim KyungNam's fight
Kim KyungNam was going through Lee MinHo's room when Lee MinHo's bodyguard Woo DoHwan caught him. They had a violent fight in the dark.
This is when Kim KyungNam realized that he was from the parallel world.
Episode 9 - Fierce Lee MinHo calling out the traitor
The end of episode 9 was epic! Lee MinHo realized that his enemy Lee Lim acted by Lee JungJin was near-immortal as he was not aging. He confronted the traitor in a crowded area. On the top of his white horse, he fiercely called the traitor's name.
They had a majestic confrontation.
Episode 11 - Splendid rescue scene of Kim GoEun
The end of episode 11 also was one of the most impactful endings. Kim GoEun managed to escape from her kidnappers and was wandering around in hope that Lee MinHo came to save her. He arrived with a whole bunch of soldiers, helicopters, cars, big guns, and horses with a perfect OST.
Riding his horse, he screamed, "Protect her, she is the future queen."
After killing the ones that were on his way, he ran to hug her.
Episode 13 - Lee MinHo realized that he saved himself
From the beginning, Lee MinHo believed that the one that saved his younger self from his murderous uncle was Kim GoEun. But it turned out, it was himself! He finally realized it before passing out from poison in episode 13.
Episode 15 - Lee MinHo & Woo DoHwan spectacular entrance with guns
We could not miss the last scene of the episode 15. To be more precise, it is the first scene of the teaser following the end of episode 15.
Lee MinHo and Woo DoHwan rode horses together through the gate to change the past. And the two made a spectacular entrance to where the traitor killed Lee MinHo's father and almost killed Lee MinHo as a child.
It was such a powerful scene.