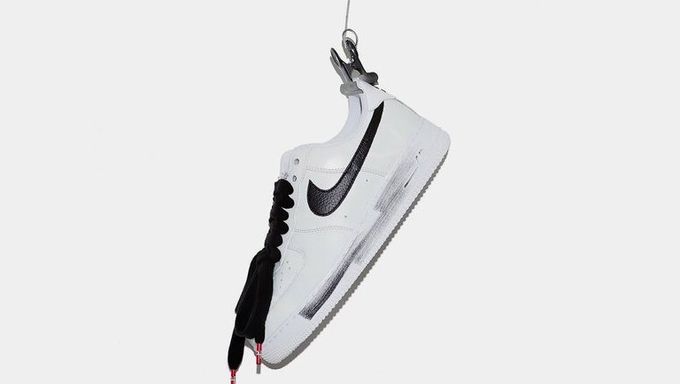 Some of the industry's most popular and successful idols have had some memorable collaboration releases with a lot of companies outside the K-Pop entertainment scene this year.
Fans have probably more than eager to get a hold of these particular items, as some of them were released in highly limited quantities as well.
You can check them out below.
G-Dragon & Nike's 'Paranoise 2.0' AF1
The 'Paranoise 1.0' upon its release, instantly became one of the most coveted shoes in the entire world, both my sneaker-head hypebeasts and K-Pop fans alike.
Well, it only made sense for G-Dragon to release a follow-up edition, the 'Paranoise 2.0'.
Released on November 25th this year, the 'Para-Noise 2.0' displayed a contrasting ivory white color to its predecessor. The general design of the sneaker remained pretty much the same.
G-Dragon the man himself stated:
"Even though everything is uncertain these days, we shouldn't stop expressing ourselves as the way we are, and creating our own world,".
Being an artist in every way, the K-Pop star continues to influence the younger generation through his music and fashion.
"With these footsteps being connected, we will find our utopia spreading in front of our eyes. I dream of every one of you expressing yourselves freely in the Youtopia that you create for yourselves."
Another similarity with the first release, was that there was also a "friends & family" edition, which came in a red color way with a white Nike swoosh.
So after releasing these really well-crafted kicks into the market, many fashion-forward people have also been hoping that G-Dragon would also release collaborative clothing with Nike as well. If you look at how some of the world's most influential designers and artists such as Matthew M Williams, Jerry Lorenzo, Drake, Virgil Abloh, Drake, and etc. have released clothing with the sportswear fashion giant, you can pretty much see that a clothing release between G-Dragon and Nike would be a great edition to have on the list.
BTS x Lemona
Lemona, the tangy vitamin C powder that has existed in South Korea ever since forever, collaborated with the world's most successful idol group in history, BTS.
In such difficult times we live in, it's best to take our vitamins right?
Vitamin C especially for our immune system, body repair, and so forth.
The BTS x Lemona collaboration was released in a heart-shaped can, one that ARMY would probably keep even after consuming all of it, and use to store various things.
BTS x Samsung Galaxy S20
It only makes sense that two entities that are perhaps the first that come to mind when you think of the nation South Korea, would collaborate.
Released on July 9th, the BTS edition Samsung Galaxy S20 displayed a gorgeous purple color way.
The phone is pretty much the same as a regular Galaxy S20, except that the screen is slightly larger and it comes in purple. But it's all about the small details that make this phone such a beauty, as there's also a heart located near the camera as well.
BTS x SYSTEM
SYSTEM is a South Korean fashion brand that has really made quite the impression on fashion-forward people, as it is not only popular in the domestic market, but also internationally as well.
And the brand's popularity has only gotten even bigger than it already was, thanks to the collaboration with BTS.
BTS and SYSTEM released their 'Blood, Sweat, & Tears Collection', inspired by the boy group's original song.
Red Velvet x Converse
There are few sneaker brands that never really go out of style, no matter what time period you're living in, and one of them is Converse.
Having had SeulGi as the face of its brand, it only makes sense that Red Velvet and Converse would release collaborative sneakers this year.
This release was no doubt a dream come true for a lot of Reveluv who usually rep Chucks as their go-to daily sneakers, as there were various different designs released based on the songs of Red Velvet.
Jennie(BLACKPINK) x Gentle Monster
Jennie, the most fashionable female K-Pop idol in the industry, has collaborated with eyewear brand Gentle Monster, and released various different models to really give your look a chic edge.