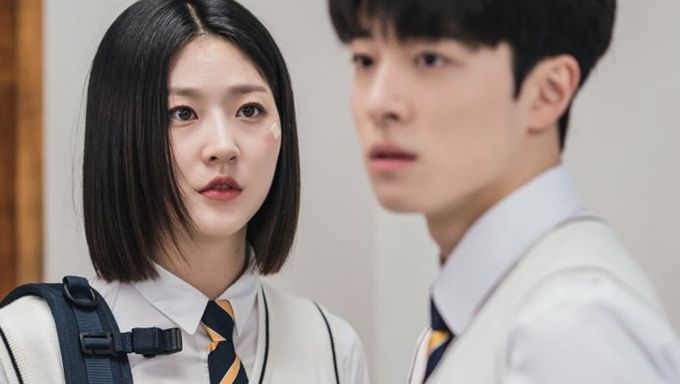 Need that weekend K-Drama dose but don't have enough time? Well, you are not alone! K-Dramas although with limited episodes tend to be hour-long and sometimes can be quite a challenge to watch. 
But worry not, 2021 has bought us so many amazing K-Dramas in a variety of genres. Many of them are mini-series that you can finish in less than a day! So here are 6 K-Dramas from 2021 that are total binge-worthy material and you can add to your watch list.
TW: mentions of bullying, suicide, violence, assault.   
1. "Squid Game"
Genre: Survival, Thriller, Action, Drama
Cast: Lee JungJae, Park HaeSoo, Jung HoYeon, Anupam Tripathi, Wi HaJun
Summary: Directed by Hwang DongHyuk, "Squid Game" is a survival drama that looks at 456 people who enter a mysterious and deadly game that will land the ultimate winner the unbelievable prize money of 45.6 billion KRW. This Netflix original series spans nine episodes, 32-60 minutes long.
Why you should watch: "Squid Game" is on its way to becoming Netflix's biggest show ever, as claimed by the CEO himself. But apart from the hype it has gained, the show is an absolute must-watch with its take on the plight of the ordinary people surviving in a highly competitive society marred by capitalism. With its witty and sublime production, stellar cast, and a nail-biting plot, "Squid Game" is a bloody and gripping watch.
For more about the drama, its characters, check our cast and summary: here.
2. "D.P."
Genre: Drama, Military
Cast: Jung HaeIn, Koo KyoHwan, Kim SungKyung
Summary: A Netflix original, "D.P." is adapted from a webtoon "D.P: Dog Days" by Kim BoTong. The 6 episode series follows an observant young private An JunHo who is assigned to capture army deserters with Corporal Han HoYeol. As the duo sets on various pursuits, painful realities of the deserters as well as new enlistees come to light.
Why you should watch it: Based on real-life incidents of writer Kim BoTong, "D.P." is one of the finest K-Drama series 2021 has to offer. "D.P." is a realistic look at the struggles of new enlistees in the Korean Army as they deal with bullying, harassment, and violence in a cruel hierarchical organization. The series makes up for a heavy watch in terms of the subject as it offers an insight into the lives of the young men as they go for their compulsory military service. Jung HaeIn gives a nuanced performance of private JunHo, quite different from the romances he's known for. Beautifully shot, it is a series that leaves you thinking long after you finish it.
For more about the drama, its characters, check our cast and summary here.
3. "Move To Heaven"
Genre: Drama, Life 
Cast:Tang JunSang, Lee JeHoon, Ji JinHee, Hong SeungHee 
Summary: "Move To Heaven" is 10 episode Netflix Original is based on an essay "Things Left Behind" by Kim SaeByul, who was also a "trauma cleaner". The story follows an autistic 20-year-old Han GeuRoo as he takes over a 'trauma cleaning' business with his just-released convict uncle Sang Gu. The two deal with the trauma of the past, family, and life as they uncover different stories from their encounters while they  'clean up after the dead'.
Why you should watch it: "Move To Heaven" is a poignant tale that deals with various themes and social issues that will tug at your heartstrings just right. It also takes a closer look at death and its aftermath on people. It has unique characters that are performed brilliantly by the cast. The show makes up a cathartic watch, so make sure you have a box of tissues as you sit to watch this one. 
For more about the drama, its characters, check our cast and summary here.
4. "Blue Birthday"
Genre: Mystery, Fantasy, Romance, Time Travel, Thriller
Cast: PENTAGON's HongSeok, Red Velvet's YeRi, Kim YiSeo
Summary: "Blue Birthday" is a 12 episode series and follows the Oh HaRin who goes back and forth in time with the help of a mysterious set of 10-year-old pictures left by her first love Ji SeoJun, who died after he inexplicably took his own life. Adamant that there was more to his death than meets the eye, Oh HaRin begins a race against time as she sets out to uncover the truth and save Ji SeoJun. But she has to beware because changing the past has a price. 
Why you should watch it: "Blue Birthday" is a quick and thrilling watch with all of the episodes running for 20-25 minutes. The time travel concept and the twists, although quite familiar tropes are not worn out here as the revelations will keep you on the hook. Red Velvet's YeRi and Pentagon's HongSeok did a good job as well. If you're looking for something of a mix between fantasy and romance, "Blue Birthday" is a good watch.
For more about the drama, its characters, check our cast and summary here.
5. "The Great Shaman Ga DooShim"
Genre: Fantasy, Mystery, Supernatural, Romance 
Cast: Kim SaeRon, Nam DaReum, Yoon SeonHo, Lee JiWon
Summary: 18-year-old Ga DooShim has lived a life far from a normal one. Fated to become a shaman, she has the ability to see spirits. She was told by her grandmother that if she makes it past her 18th year, she can live a normal life. Na WooSoo is a model high school student, always at the top of his class in Seoul''s most prestigious High School. The worlds of the two collide as Ga DooShim, who transfers into the new school at a time when the kids with the lowest score strangely die by suicides find a supernatural connection. Longing to live a normal teenage life, DooShim with the help of WooSoo embarks on what she hopes to be her final ghost-busting journey, to free the school of the evil spirit. 
Why you Should Watch it: A perfect binge watch with 12 episodes and 20 min runtime, "The Great Shaman Ga DooShim" along with being a supernatural series, also in a very different way looks at the pressures teenagers face to succeed in examinations, with their fears and sources given a supernatural manifestation. The leads have done an amazing job. Kim SaeRon and Nam DaReum were quite famous as child actors, so it was a delight to see them together on screen. An overall great watch if you need that supernatural with just the right hint of romance.
For more about the drama, its characters, check our cast and summary here.
6. "You Make Me Dance" 
Genre: BL, Romance
Cast: Won HyungHoon, Chu YoungWoo
Summary: ShiOn is a 22-year-old university student majoring in dance. He aspires to become a dancer like his mother, who abandoned him after she got married again. Shi On, now on his own is in debt after he loaned money that he gave to his mother. Unable to pay, he is confronted by HongSeok, the debt collector. ShiOn convinces the collector that if he wins the upcoming dancing audition, he can repay. But after HongSeok's boss becomes mad at him for agreeing to ShiOn's terms, He sets his mind to help ShiOn pass the audition cast.
Why you Should Watch it: "You Make Me Dance" is a heart-fluttering BL spanning just 8 episodes of 15-20 min. Compared to the others on this list, this one is a much lighter watch in terms of themes, so if you are not in the mood to watch a hard-hitting drama, "You Make Me Dance" would be a perfect fit.
For more about the drama, its characters, check our cast and summary here.