How would you feel if you found out that a BTS member verbalized all of BTS's current global success even before they happened? The idol group's member Suga talked about a lot of things that he would like for BTS to achieve in the future many times on TV shows and the amazing thing is that they all eventually happened.
Maybe the K-Pop idol is gifted with more than just musical talents?
Below are a few achievements that Suga talked about that actually happened up until now.
First Daesang
Suga felt that the group deserved a daesang for all the effort that they put into their career in 2016. The group ended up winning their first daesang that very year during the MMA's.
Concert In Jamsil Stadium
Jamsil Stadium is one of South Korea's largest venues for performing artists. It is also where Ultra Music Festival Korea takes place as well. BTS managed to sell out all 90,000 seats for their upcoming LOVE YOURSELF tour on that is set to kick off on August 25th at the stadium.
Billboard Music Awards
Suga stated that it would have been nice if BTS became nominees for the Billboard Music Awards during a V Live streaming session. Little did they know at that time that they would not only become nominees but the winners beating out Justin Bieber, Ariana Grande, and other popular US artists for 'Top Social Artist'.
No.1 On Billboard Charts
Suga talked about reaching number one on the Billboard Charts for a long time, as it has been the group's dream. BTS ranked number one on Billboard 200 and set another groundbreaking record. Hopefully, their goal to hit number one on the Hot 100 will come true soon as well.
Top 10 On Billboard Hot 100
Their most recent comeback single 'Fake Love' made it on the top 10 of Billboard Hot 100.
Japan Dome Tour
Suga rapped about how BTS would be able to show everyone who ever doubted them by touring and performing in the domes of Japan.
And it came true.
Read More : BTS Becomes First K-Pop Artist To Perform In US Stadium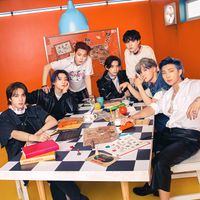 Became a fan of BTS
You can now view more their stories