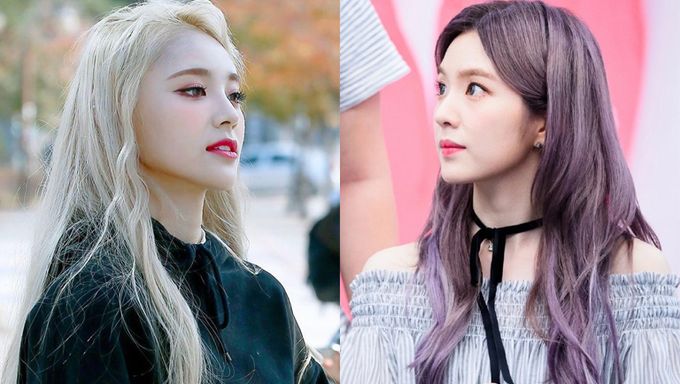 Everyone has heard of the term 'a fresh new year, a fresh new start'. If you are looking for a new change with the new year ahead, how about considering changing your hair color?
In the K-Pop community, it is very easy to spot idols with bright and vibrant hair colors as it helps them to stand out from others.
One Korean media has suggested some unique and pretty hair colors that you should try at least once! Let's find out what they are.
#1 Milk brown
For those who prefer something more subtle, you can definitely check out milk brown as it is a color that compliments many! Just like how Suzy has her hair in milk brown, fans love how she looks elegant and graceful. Don't be shy and give it a go!
#2 Ash brown
If you are looking for something brighter, why not check out the ash brown which Red Velvet's SeulGi had on her before! It is the hair color perfect for autumn as it brings out the color on your face together with the contrast of the season.
#3 Light blond
If you want to go all the way, think about getting light blonde! Although this color may not be suitable for some, it is usually on a bucket list for many K-Pop fans to have this hair color. LOONA's JinSoul looks amazing with this hair color and fans could not help but agree too. This color is usually mostly attempted during the hotter seasons such as summer.
#4 Lavender ash
If you are going for a more mystical look, why not try lavender ash? Red Velvet's Irene had this hair color before and earned tons of compliments from her fans. Not only does she look even more mysterious, fans believe that she would look like she is from another planet if she had put on color lens!
#5 Light orange
Another bright color highly recommended is light orange! Gugudan's MiNa has amazed many when she dyed her hair into light orange. It compliments her adorable image and also gives off a sense of youthfulness.
#6 Ash pink
Last but not least, we have the color in light pink for you to consider! Once again, this might not be a color that suits everyone but it definitely gives others the impression that you are a very unique and confident person. EXID's Hani has tried a lot of different colors to date and some of her fans feel that she looks the best in light pink.
Read More : BLACKPINK's Lisa Looks Amazing With Short Bob Hair