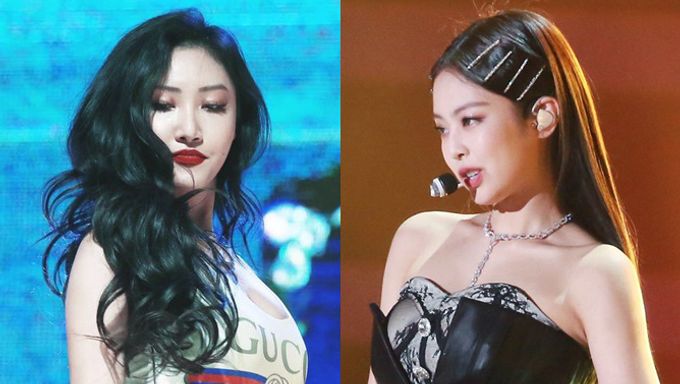 K-Pop idols have a large influence over fans!
Sometimes, the words they say, the clothes they wear and even hairstyle become a trend among fans! In other words, many also call K-Pop idols trend setter as in some cases, they are the one that actually initiated the trend.
Looking back about a decade ago, female K-Pop idols have already been influencing others with their unique and catchy fashion items. Let's find out more about it.
#1 Colorful skinny jeans by Girls' Generation
Exactly 10 years ago, Girls' Generation's hit song 'Gee' took over K-Pop fans with the catchy beat and adorable dance moves. In addition to that, many began to notice the change in fashion and the start of colourful skinny jeans trend!
#2 Round collar one-piece dress by IU
We also could not forget about the time when IU released her song 'You and I'. Inside of her music video, she was seen wearing a round collared dark one-piece dress. Together with how incredible her vocal skills are, she managed to set the trending of round collared one-piece dress too.
#3 Tennis skirt by f(x)
Did you know that the tennis skirt trend was a huge one in Korea? Back in 2013 when f(x) was promoting actively, many fans took note of their fashion and began loving the way the girls wore the tennis skirt. Since then, there have been many variations of the tennis skirt.
#4 Two tone hair by Red Velvet
The debut of Red Velvet also marks the time when two tone hair became a fashion statement. Thanks to their debut, many fans also began to dye their hair like the girls and also tried to personalize their own hairstyle too. Who knew such hairstyle would become trendy too!
#5 Swimming costume with shorts by MAMAMOO's HwaSa
In 2018, HwaSa sparked the trend of wearing a swimming costume together with shorts. It was a pretty popular fashion match that a large number of Korean girls find it appealing too!
#6 Hair pins by BLACKPINK's Jennie
Another most recent fashion trend was set by BLACKPINK's Jennie. During her solo promotion, she was seen with sparkly pins over her hair. Not only does she looks adorable, Jennie also looks clean and youthful at the same time.
Which is your favourite fashion trend?
Read More : Top 3 Male K-Pop Idols Voted With The Best Boyfriend Material Vibes