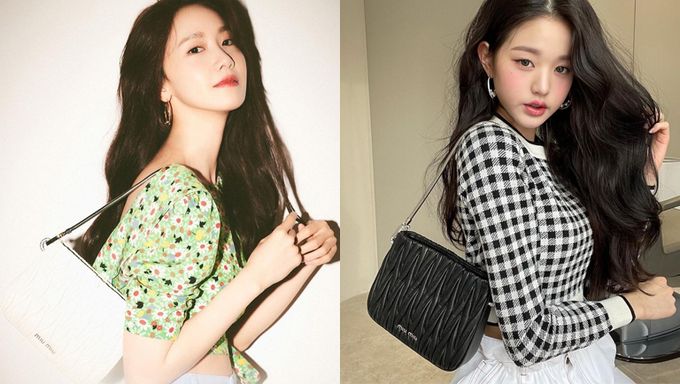 Luxury brand 'Miu Miu' is having their "Miu Miu F/W 21" fashion show by Miuccia Prada remotely in Seoul and Kpopmap noticed that there are actually 6 female Korean celebrities who were given their latest "Miu Sassy Matelasse Nappa Leather Handbag".
Let's take a look at who they are!
1. YoonA
There is no doubt why YoonA has always been the center of attraction. Her gorgeous visuals and classy fashion are what it takes to make a fashion statement.
2. IZ*ONE's WonYoung
The 18 year old (Korean age) maknae of IZ*ONE shows off her chic and adorable sides with the checkered top and long, flowy hair. Not long ago, she also had a photoshoot with 'Miu Miu' along with YoonA.
3. OH MY GIRL's ARin
Looks like the maknae of OH MY GIRL also received the lovely bag from "Miu Miu"! ARin knows how to pose not only with the bag but also angles in a way that flatters her the most.
4. SunMi
Give it up for SunMi as she looks absolutely stunning with not just the bag from "Miu Miu" but also the various outfits!
5. Ahn SoHee
Before SoHee switched to her current acting career, she is also a proud member of Wonder Girls. She poses with edge and sass while holding the bag from "Miu Miu".
6. Kim SeJeong
SeJeong has her own way of showing off the luxury bag! She sits down elegantly dressed in a fluffy black dress by "Miu Miu" and also smiling at the camera.